Starting a food truck business is a great way to get into the restaurant business, but it's also a useful way to expand an existing restaurant. You can reach areas of your city that are too far away to attract regular customers or to deliver small orders. Existing restaurants can reach likely customers for their most popular foods anywhere in the city, which results in higher sales and increased traffic at their permanent locations.
As a startup strategy, food trucks can't be beat. Investment costs are lower, and you're not tied to any single place. If sales aren't going well, you can just scout around for better locations. Food trucks can earn as much as $2,000 USD during a busy lunch, and successful operations can generate catering gigs and new sit-down business at your restaurant. Payroll and operating costs are much lower than those of a restaurant, so you'll earn more profit on sales.
Starting a Food Truck Business
Starting a food truck business requires less planning than opening a brick-and-mortar restaurant, but there are still important issues to consider when planning your business.
Building Your Existing Restaurant's Profile and Profits
One of the greatest advantages of a food truck is sales flexibility. If you own a restaurant, you can develop new territories, market unique foods in different sections of the city and use the truck to take part in local festivals and celebrations. A food truck serves as a mobile advertising platform that can promote your business 24/7.
The costs of maintaining the truck and storing food in an approved facility are greatly reduced because you already have an approved location to store and prepare food. You can refer to your food truck in all your promotions and get more promotional mileage from each advertising effort.
Financing a Food Truck Operation
If you don't have a lot of capital, a food truck can be considerably cheaper than a brick-and-mortar restaurant. You might even be able to lease a used truck from a retired business owner. Depending on your local regulations, you might be able to start with a small cart, festival booth or trailer.
The average cost of starting a food truck business runs between $15,000 and $100,000 USD, but you might need to spend more to customize your truck, satisfy local health and business regulations or satisfy high-end customers. The following is a breakdown of common startup expenses for a food truck:
Purchasing or leasing a truck
Making any essential modifications for your cuisine or to satisfy local health regulations
Getting hardware for a simple and affordable mobile POS system
Subscribing to a reliable wireless Internet service
Designing or upgrading an existing website
Designing your truck's exterior to attract business
Obtaining software for accounting and office supplies
Hiring a lawyer for legal issues and advice
Covering startup licensing and permit costs
It helps to have good credit if you hope to obtain a business loan. However, those who have bad credit can finance a food truck in several creative ways. These strategies include the following:
Finding a financial investor or partner
Using crowdfunding options to finance your business with lots of small investors
Making a strong case for a loan from a peer-to-peer lending network
Starting small with a trailer or booth at a local farmer's market
Running a food truck for an existing restaurant
Negotiating a lease with a food truck owner
Finding sponsors for a food truck that provides a needed local service
It's important to research local regulations about outdoor food sales. Some jurisdictions don't allow food trucks on some or all public streets, so you'll have to find property owners who'll allow you to operate on their property - usually in parking lots at malls, strip malls, museums, factories and other venues. Some areas regulate against food trucks operating too near established restaurants. Locating your business too close to a brick-and-mortar competitor can generate lots of ill will, pricing wars and negative press generated by your competitor even if the practice is allowed.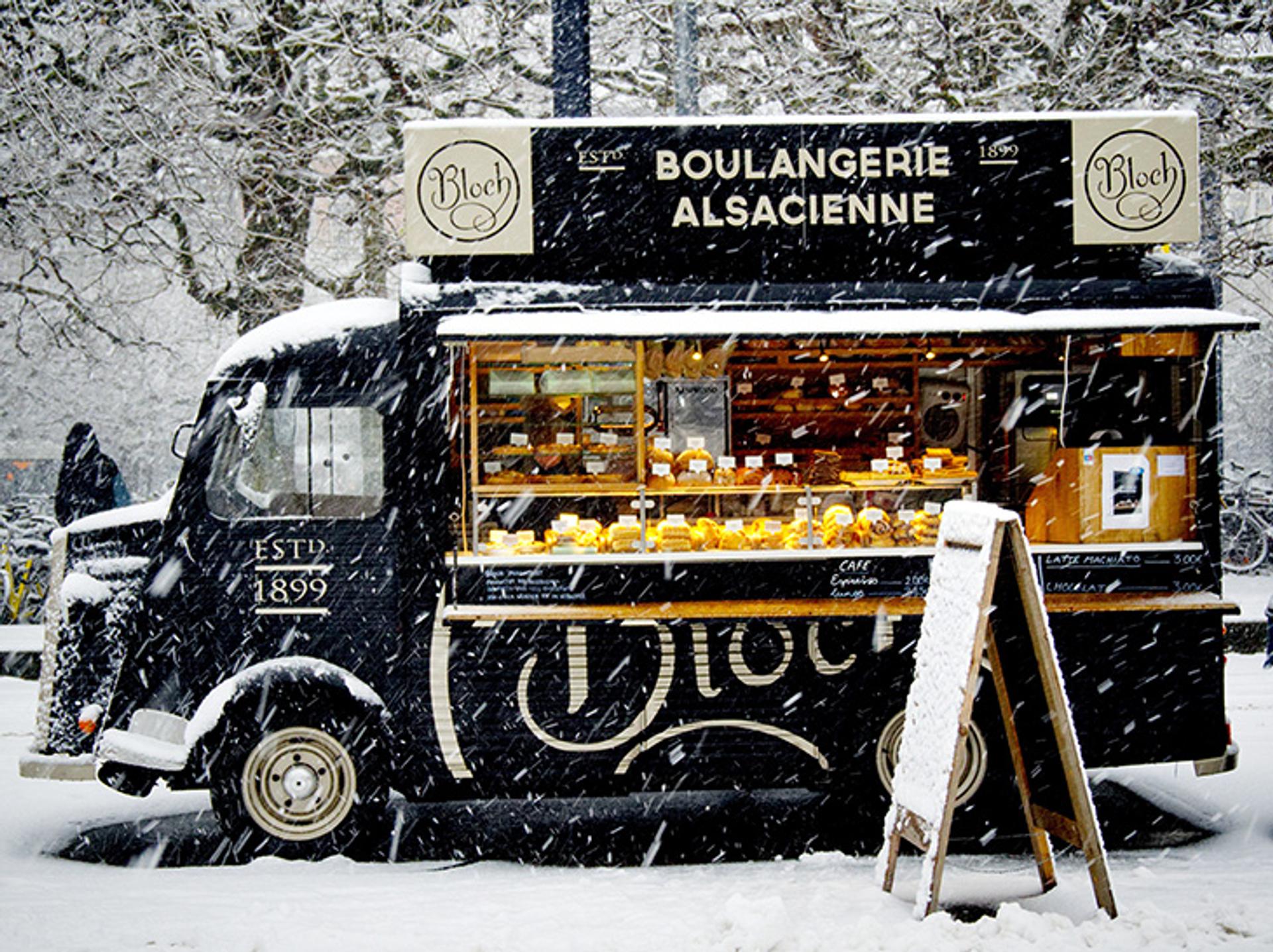 Food Safety
Food safety is as great a concern for food trucks as for restaurants. Safe storage spaces are extremely limited on a truck, so you've got to store supplies somewhere that's approved by local regulatory authorities.
Recurring Costs of Operating a Food Truck
Recurring costs to consider in your planning include many expenses that regular restaurants incur. Ongoing food truck expenses include:
Insurance for the business and truck
Inventory including food and supplies
Commissary fees for storing food, prep work and cleaning and sanitizing your truck
Ongoing truck maintenance including mechanical work, cleaning, painting, designing truck wraps and providing lights if the truck is used at night
Costs of propane, fuel and/or a generator
Payroll
Payment processing costs
This is not a complete list of all expenses but just the most common. Your costs will vary depending on your cuisine, local health and business regulations and other criteria.
Marketing a Food Truck Operation
Marketing a food truck can be as easy as decorating your truck as a mobile billboard. You can use social media and GPS marketing to inform nearby prospects that your food truck will be available at breakfast, lunch or dinner for quick food orders. You can use social media resources like Hootsuite to monitor Internet buzz about your food and operation. Some of the best and least expensive ways to market your food truck include:
Identify local fairs, festivals, fundraisers and special celebrations where your food would be welcome.
Post online photos of your daily special.
Distribute flyers and business cards in areas where you'll be operating.
Offer samples of high-profit dishes that aren't common.
Share any positive press or reviews on social media and your website.
Offer free meals to local food bloggers and reviewers.
Choosing a Commissary or Support System
Food trucks require hard work, preventative maintenance and creative ways to store food and do essential prep work, but there are options that make these tasks easier for aspiring entrepreneurs. Food truck commissaries are becoming more common, and many of these provide turnkey services for food trucks such as advice on business, assistance in finding customers and access to commercial kitchen facilities where staff can prepare and store food. Professional support staff can advise you on certifications, food safety training and business strategies to grow your company.
Depot services include truck bays where you can sanitize your workspace and a physical address to order supplies. You can store supplies that you can't carry on your truck. The staff of these commercial operations can receive your inventory so that you can work without interruptions. You'll also have access to commercial restaurant equipment, pots, pans and small wares to expedite food preparation. Existing restaurants have built-in options for managing prep work and storing food safely.
Starting a food truck is the fastest and easiest way to become a food entrepreneur, and it's a great way to promote and expand your existing restaurant.