Coffee shops are among the most affordable businesses you can start because they don't require as much equipment when compared to other types of F&B businesses. Even though that's the case, there are still quite a few tools you need to buy to fully equip your coffee shop and have a successful business. Without the proper tools, your business won't cut it in the market. Especially if your baristas take too long to prepare simple drinks or if machines are too complex to use or break down often, and if the final quality of your drinks is not good enough for your customers. Those and more things are influenced heavily by the equipment you've procured for your business. In this article, I'll guide you through the different pieces of equipment you will need to make your coffee shop successful.
How to Pick the Right Coffee Shop Equipment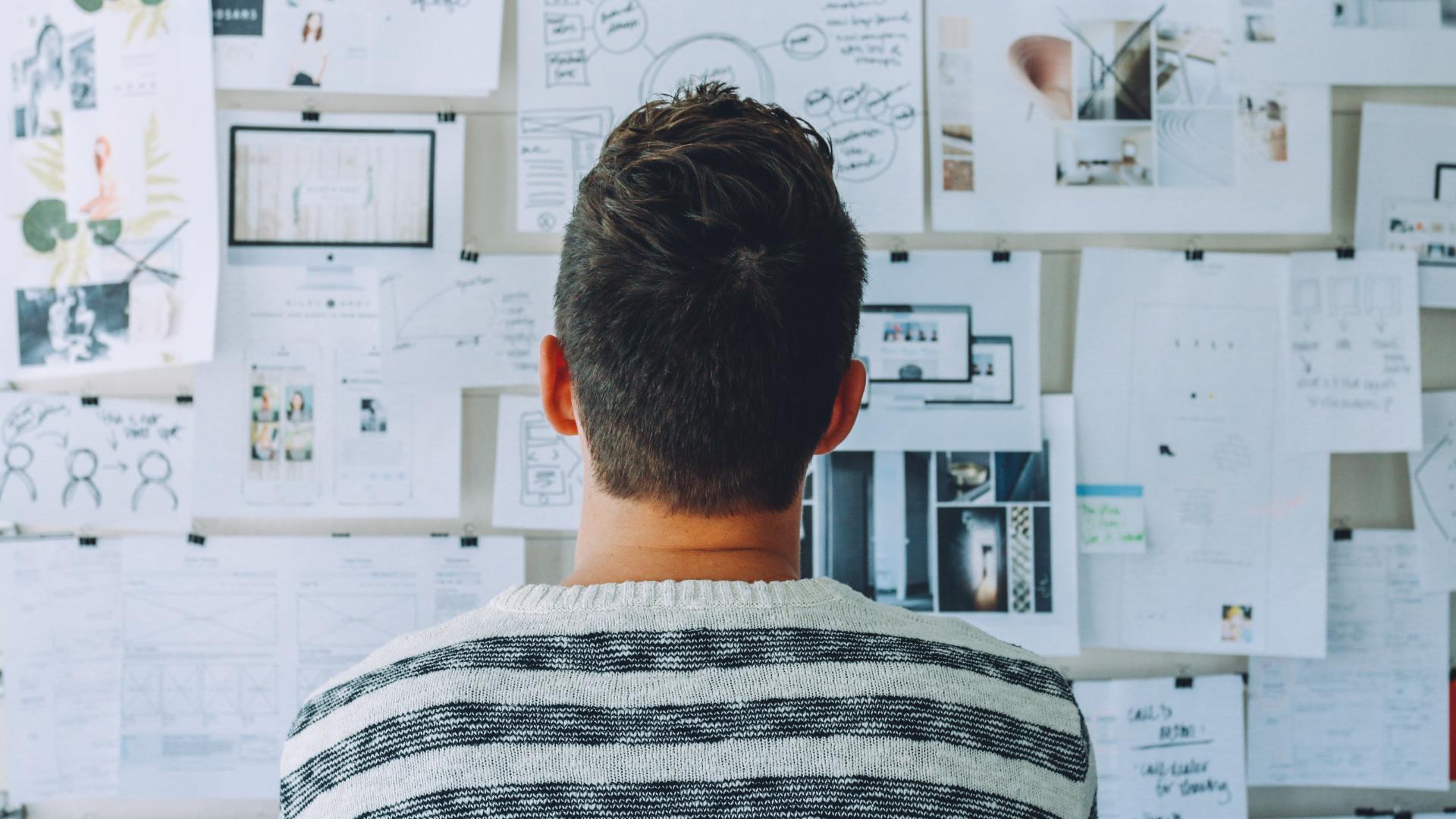 Even though buying the right equipment is important, you first must go through the process of selecting the equipment you will need for the business – you shouldn't just buy everything I mention here! Instead, you must study your business, other businesses, your drinks offer, the experience of your baristas, and many more variables to come up with a buying list. Additionally, you must consider the following factors:
Quality of the equipment
Warranty and insurance of each product if available
How easy it is to repair the most essential equipment and how the process would go to get it done (prices, logistics, etc)
Ease of use
Productivity of the most essential machines, i.e. how many cups of coffee can your espresso machine make in an hour, how many drinks can be prepared at the same time, etc
Workspace and specific measures of each area
Basically, you must figure out the needs of your business and satisfy them with the equipment you plan to buy. If you are placing your business in a high-traffic location, and everything indicates your business would benefit from it, you shouldn't buy a low-volume single-serve espresso machine. Instead, prepare for it with a very high-quality commercial espresso machine with more than two brew groups to prepare three or more cups at the same time. You must also make other necessary arrangements, like having enough working space, staff, and more. Apply these guidelines and you'll be able to create a list that covers all of your business needs efficiently and allows you to maximize productivity. Now let's talk about specific equipment.
1. Barista Tools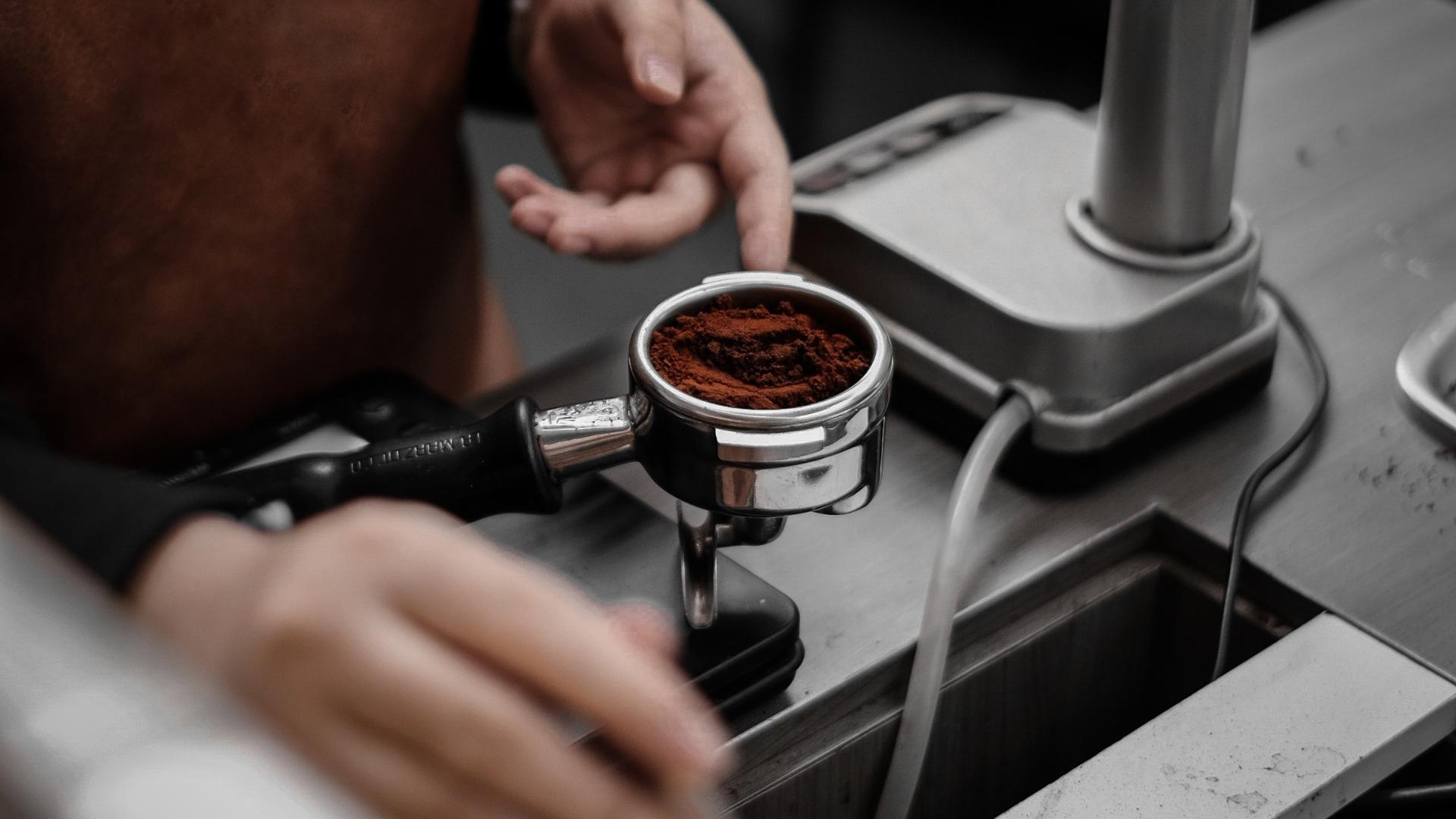 The barista is the person who will be in charge of preparing the drinks in your coffee shop. They must be experienced individuals who know everything about making excellent coffee applying specific techniques and using ingredients properly. However, without the proper tools, it's almost impossible for them to prepare drinks to satisfy your customers' needs. You must ensure your coffee shop has the following barista tools:
Espresso tampers or hand press and levelers
Coffee knockers or used ground coffee bin
Milk jugs or pitchers to steam milk
Barista milk thermometers and timers
An accurate scale
Measuring cups and spoons
Cleaning brushes
Cleaning cloths
Espresso pucks
Anti-spill heat-resistant mats
Gloves
Aprons
You might also need other tools if you offer other types of drinks in your coffee shop. Things like tea ball infusers if you offer fresh tea or even matcha tea tools. Some coffee-based drinks also require bartender tools or other tools that are common in kitchens. It's also worth mentioning that you will likely need common kitchen utensils like spoons, barista spoons, knives and tables, a microplane, mortar and pestle, and more. These are fairly useful if you offer creative drinks, work with spices, and other rather unconventional coffee-based recipes.
2. Coffee Shop Machines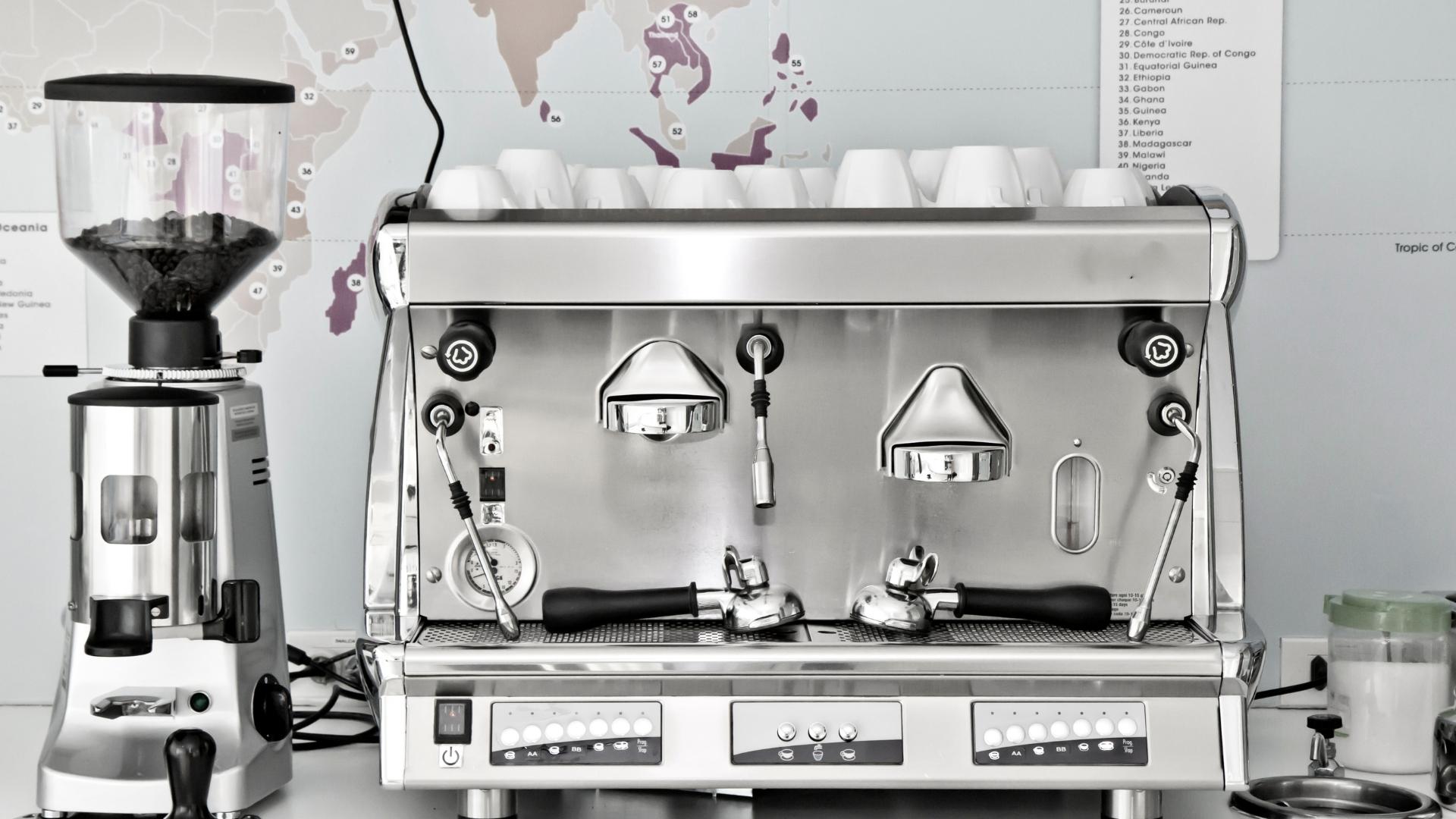 Barista tools are only used for small but common processes. However, the most common processes in a coffee shop require specialized machines to achieve the most efficient results. The following machines are common and essential in coffee shops.
A. Espresso Machines
They are the centerpiece of the coffee shop business. Espresso machines are used to prepare delicious and highly concentrated espresso, which is the base of numerous caffeinated drinks. If your business is not equipped with one that provides your baristas with high-quality cups of espresso, it will likely fail. Why? Because the quality of the espresso defines the quality of the rest of the drinks your baristas can prepare! Having a top-notch espresso machine is crucial to satisfy the needs of your business. You must procure an espresso machine that meets the following requirements:
More than one brew group, especially if you have a high-volume business
A sizeable boiler for you to prepare espresso cups with a high frequency
A good overall size
It must be easy to clean and maintain
A good price
And all the features your business might need!
Another thing to consider is that you will run into the decision of getting an automatic, semi-automatic, manual dosage espresso machine, or a combination of these options. You must study each option carefully because it will affect the amount of customization of the machine as well as the ease of use, and many other factors. If you're new to the business and are not sure, going for an automatic espresso machine might sound like a tempting option. But, if you want to offer specialized drinks and have a good barista on your team, then you can decide on a more complex and versatile machine.
B. Coffee Grinders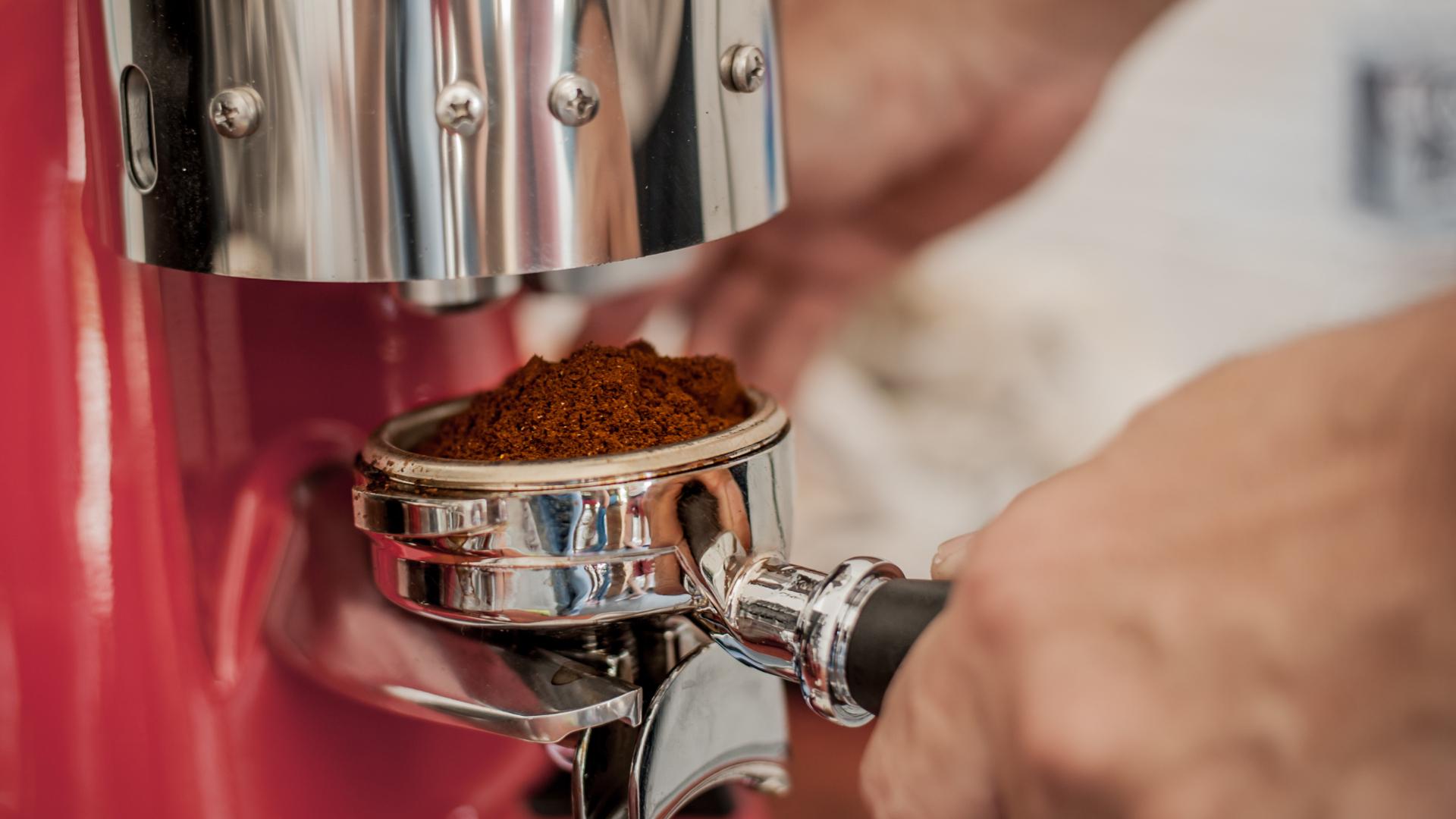 There are several types of coffee grinders you can pick from. Still, you should go for one that meets the following criteria:
It has several functions and settings to achieve the perfect grind, from very coarse to very fine
It's easy to clean and maintain
It's highly dependable and can be used with high-frequency
Other features can improve the workflow of your baristas. Things like an inbuilt scale and dosage measurement system can make the process of grinding the coffee much easier and faster, improving the productivity of your baristas.
C. Commercial Coffee Brewers
These are not as specialized as espresso machines and provide regular coffee. They can be useful to serve your customers simple cups of coffee that aren't as concentrated when compared to an espresso. After all, not every customer will want an espresso-based drink – some will settle for a simple cup of coffee.
3. Refrigeration Equipment
Even though coffee beans are not usually stored in refrigerators – and you shouldn't do so – you'll still need them to keep other ingredients fresh. You will likely need a refrigerator for the ingredients you'll use. Some coffee shops also offer cool drinks, which means you'll need to freeze some ingredients, as well as have ice readily available. If you need a lot of ice, a small ice machine is good to have, too.
4. Display and Light Cooking Equipment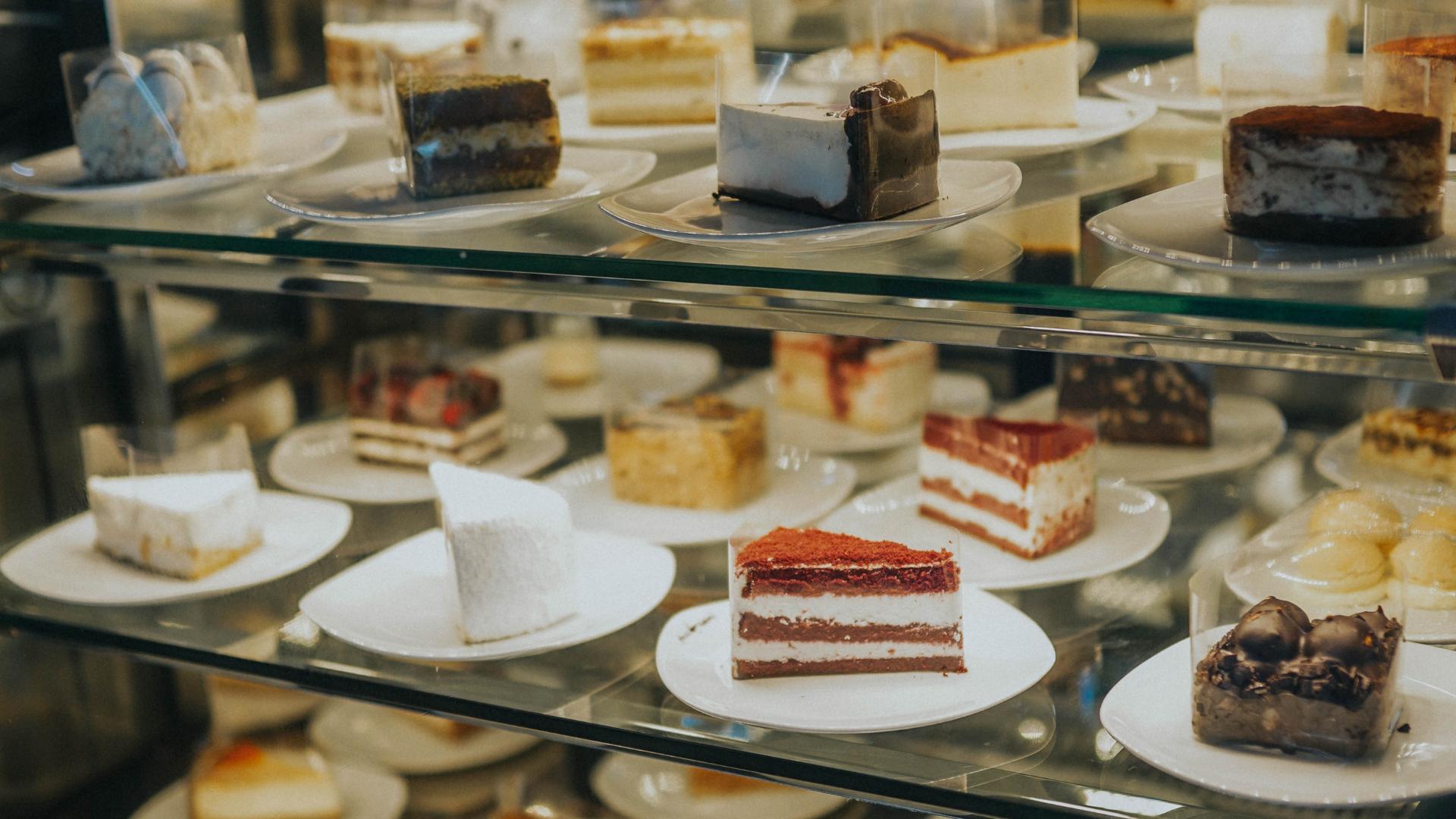 Since most coffee shops also offer breakfast and even dessert options, you'll likely need some equipment to heat or cook simple meals. Some of the most common equipment are the following:
A microwave oven or small oven that allows you to heat foods and ingredients
A simple grill and stove combo
Commercial sandwich makers or toasters
Blenders to prepare smoothies, juice, and other types of drinks
Cooking tools – a set of knives, cutting boards, and more
Additionally, if you offer desserts or ready-made foods, you'll need a heated display case to keep them fresh. Some coffee shops don't prepare foods directly but form alliances with other businesses like bakeries to offer specific foods, making display cases much more important.
5. Cleaning Equipment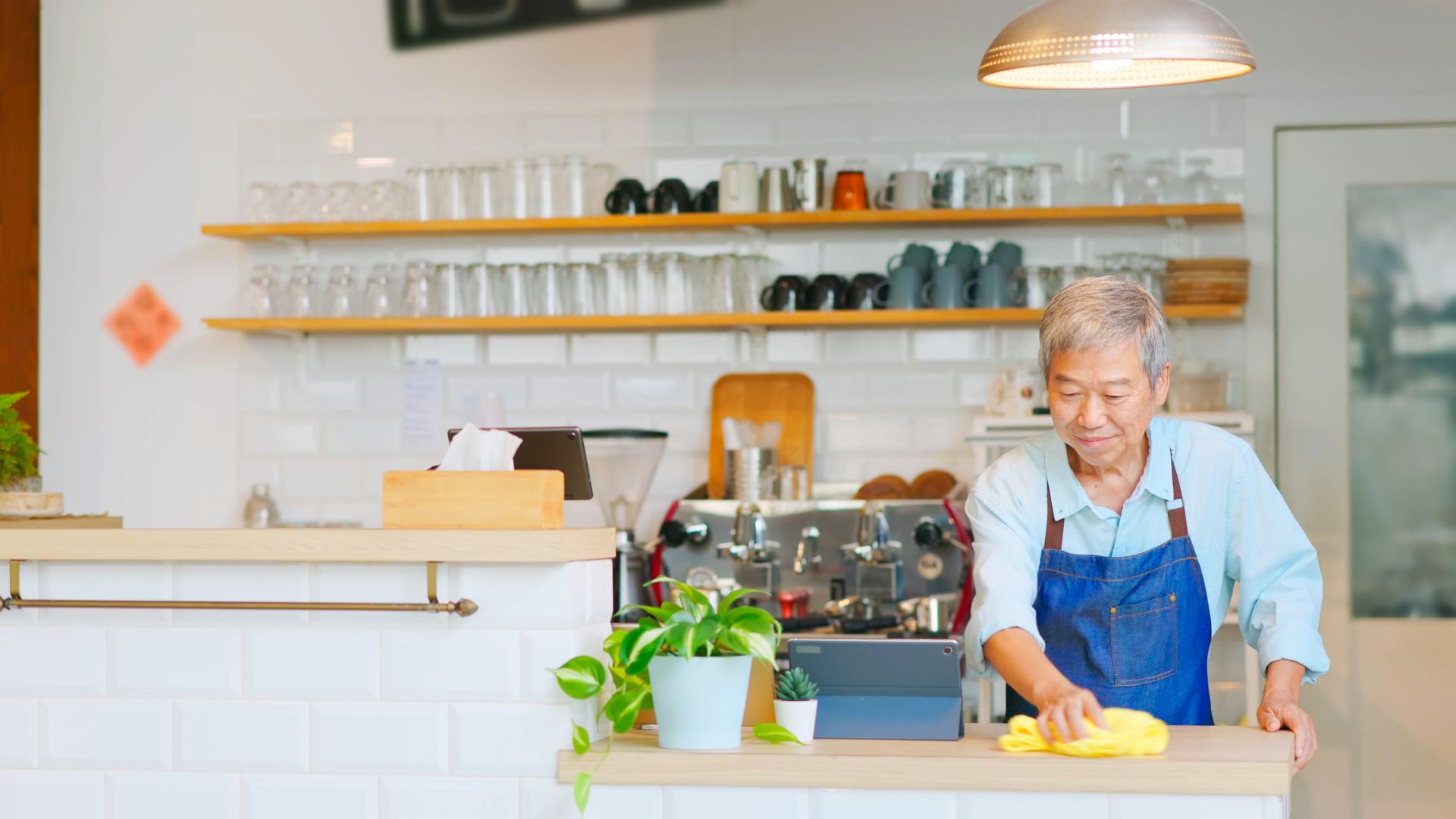 Another crucial part of running any food and beverage business is cleanliness. You must provide your staff with all the necessary equipment to keep the coffee shop clean and tidy. Some of the things you must procure are the following:
Double or triple sinks to keep cups and utensils clean
A small commercial dishwasher if you're running a busy business
All the necessary tools to clean and maintain espresso machines, grinders, and more
And other common cleaning equipment, i.e. mops, buckets, brooms, and more
Cleaning rags and disinfectant solutions should also be available at all times.
6. Coffee Shop Technology and POS Equipment
When running a coffee shop, you'll need to satisfy your customers' needs as well as keep up with the daily operations. To do so, you will need the following equipment:
One device to install the POS system. The number depends on the volume you need to cover and the number of cashiers you'll have. Most coffee shops have only one, but you can have more if you run a high-volume coffee shop
A thermal printer. You'll need to print receipts for your customers!
Cash registers to receive cash payments
Convenient card readers to receive card payments
A reliable router and Wi-Fi connection
A POS system that allows you to take advantage of the rest of the technology efficiently
This equipment can be expensive. If you're looking for a better and more affordable solution, check out Waiterio. Waiteiro is a POS that adapts and covers your needs without expensive equipment. To use our POS app, you only need to install it on the device you prefer – it's compatible with iOS, Android, Windows, Linux, and MacOS devices. Also, you can connect it to cash registers, thermal printers, and other devices to run your business. Keep track of sales, profits, and your staff, create a simple website and online menu for your business, and more. Learn more about what Waiterio can do for your business!
How Much Do You Need to Open a Coffee Shop?
Opening a coffee shop is significantly cheaper than opening other food businesses like restaurants. However, a coffee shop with all the equipment, renting a small or medium venue, decoration and furniture, as well as other initial expenses, can cost upwards of USD 75.000,00. Still, that's just an average so you can probably open one for less depending on the actual costs in your city. Also, keep in mind that coffee shops can be very profitable, even more than some restaurants. All you have to do is create a sturdy business plan and manage costs properly. Do you think a coffee shop is the business for you?