The restaurant business isn't as easy as some beginner restauranteurs think. It seems simple--you just need to produce good food, in a pleasant ambiance, and at a reasonable price. However, achieving those goals won't guarantee financial success. There are many factors that are involved in making a restaurant profitable.
According to many studies and surveys, restaurant design and ambiance are among the top factors that affect the profitability and success of your restaurant.
Your restaurant's design can vary greatly based on your restaurant's theme, cuisine, and budget. But you should always keep in mind that there is one thing which is most important:
Your restaurant needs to function smoothly, or there will be significant delays and problems.
This means that you might need to take some actions like:
Creating a dedicated area for your carryout/takeaway orders
Creating easy access to bathrooms and outdoor dining areas
Keeping enough space between the tables to ensure that your waiters can move freely
Accommodating wheelchairs and other assistance equipment
For eg., a huge aquarium in the center of your dining hall, might look very beautiful and even encourage your customers to take selfies, but if it becomes inconvenient for your customers or waiters to move freely, then you might have to remove the aquarium.
Why a great interior design is important for your restaurant?
A functional restaurant interior design is crucial because-
It satisfies your customers aesthetically
It creates a good environment for your staff
It ensures that your restaurant operations like cooking and serving run smoothly
So, you need your restaurant's interior design to be beautiful as well as functional and practical. Let's talk about this topic in more detail.
Restaurant Interior Design Basics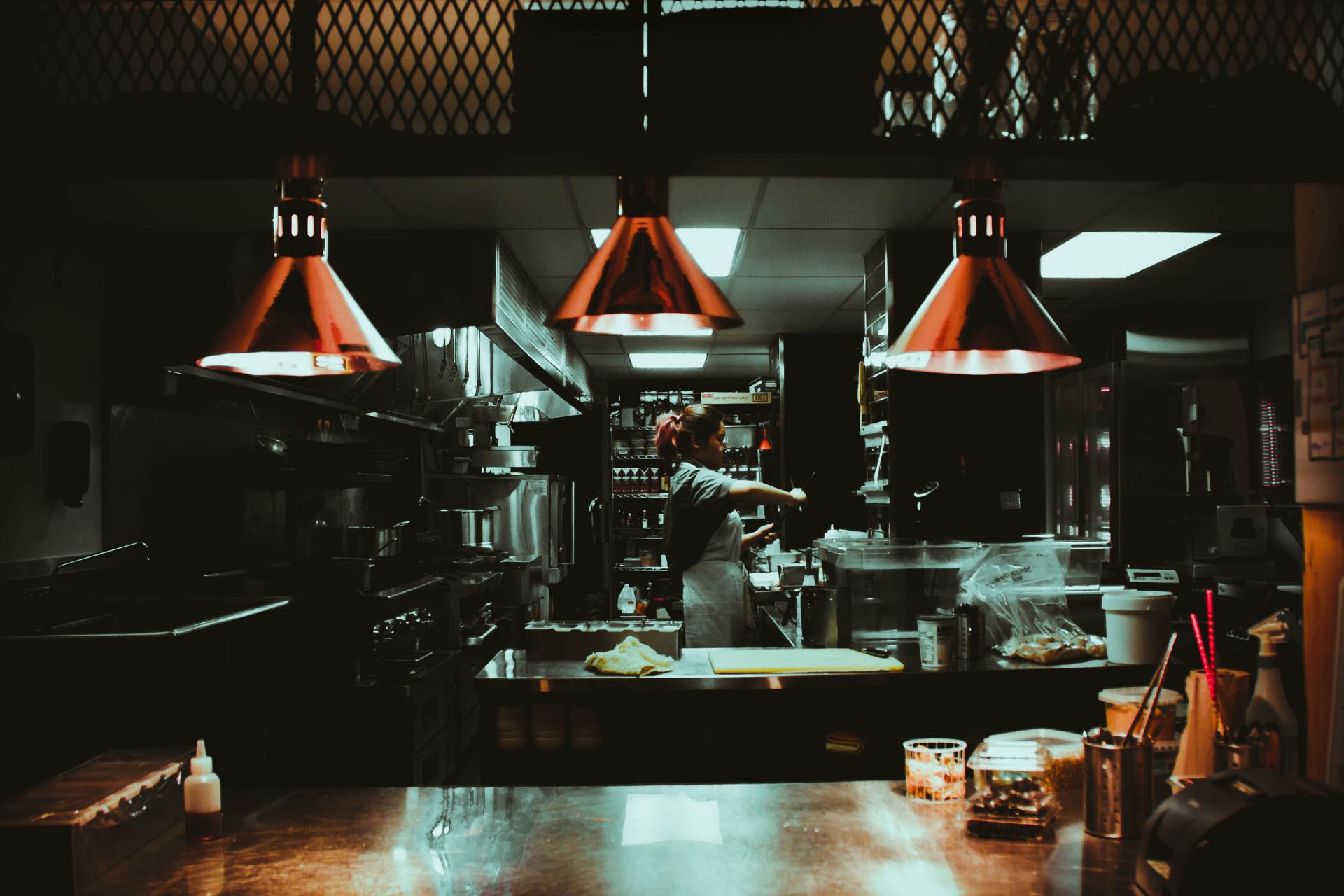 Your restaurant's interior design will depend on your restaurant's type/concept. This might fall into one of the following categories:
Fast food
Casual
Fast casual
Fine Dining
Modern
Gastropub
Neighborhood bar and grill
Indoor/outdoor
Cafés and bistros
Fusion cuisine
For example, it's clear that a fusion cuisine restaurant would have design elements from both of the cuisines. Also, a fine-dining restaurant will have a very different design than a fast-food restaurant. 
How do you choose the design for your restaurant?
The best way is to find out what the top restaurants are doing. To get some ideas, search on Google about 'Top fast-food restaurants', 'Top family restaurants', or whatever your restaurant type is. Look at their design closely and try to implement it in your restaurant. 
But do not forget about the practicality of the design.
For example, you can have a restaurant with both indoor and outdoor dining spaces. But to make this design functional, the restaurant needs to have good accessibility between their dining spaces and their kitchen. Also, it can be a good idea to have separate staff for outdoor and indoor dining space. This will make the restaurant's operations more efficient.
There are several critical areas where you need to think about functionality when designing. These include:
The bar and waiting area
Entrances and coat check areas
Main dining room
Special areas for dining such as spaces for group meetings, buffets and private rooms
Server stations
Kitchen design
Areas to place carryout orders
So, do not get fixated on the aesthetics of the design, always keep practicality and functionality in your mind.
Tip: To increase the revenue your restaurant can offer certain items for takeout in the front of the restaurant, outdoors, in vending machines, and even at nearby locations such as busy factories or office buildings. It's important that you design these spaces in such a way that they match your restaurant's general design, brand, and theme.
Tip for handling payment
Taking payments, fulfilling delivery, and carryout orders can be challenging to manage for a restaurant-- especially during rush hours like lunchtime. Long queues at the cash register or POS station can block paths to the restroom or entrances and exits. These queues could also reduce your restaurant's efficiency by blocking the paths for waiters between the kitchen and tables.
Tip: A modern POS systems that allow tablet and smartphone ordering and tableside payments can solve these issues.
Storage space: An often overlooked aspect of restaurant design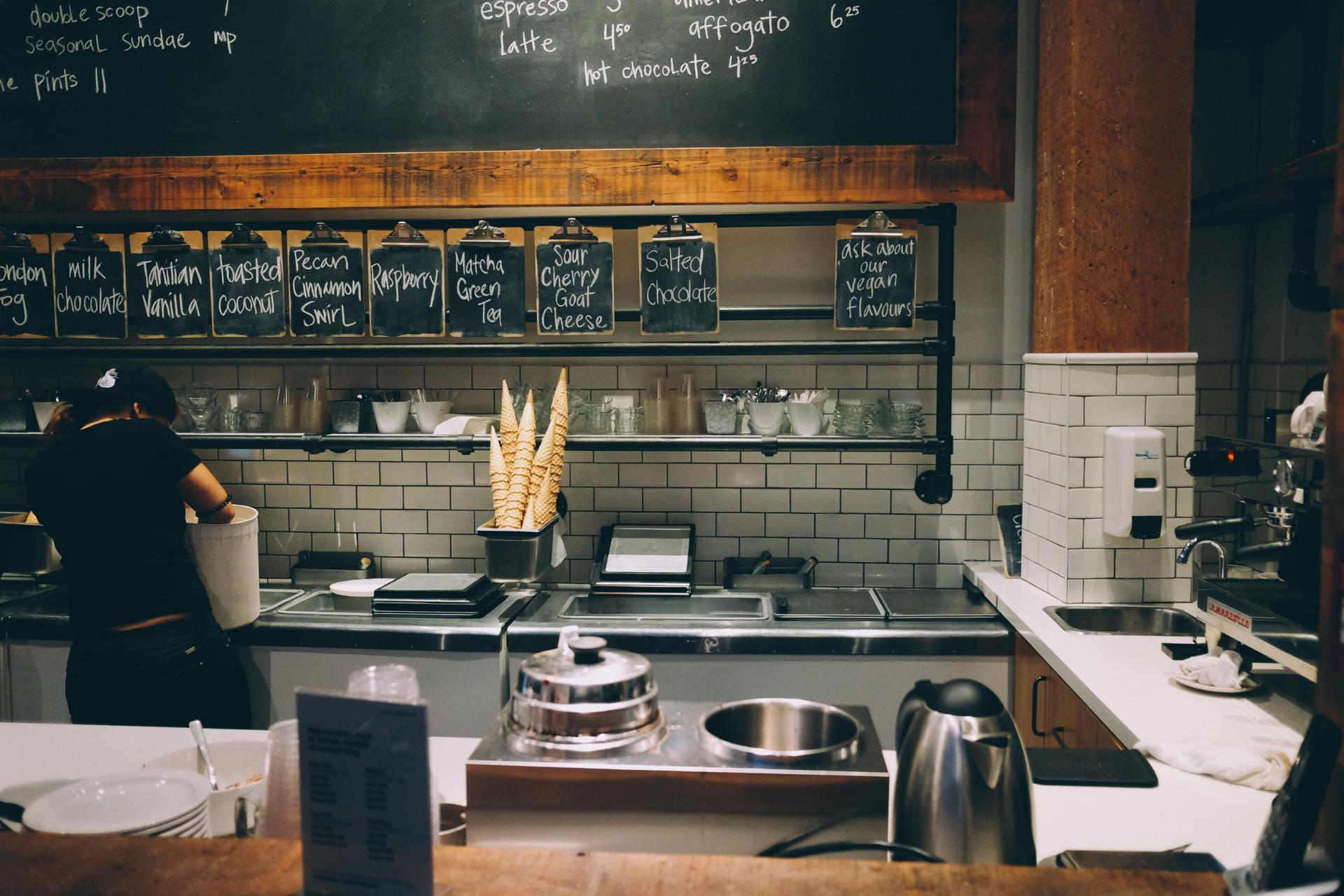 Just a clean, organized dining room might be good, but you will also need to create storage spaces for condiments, glasses, silverware, carryout materials, high chairs, and extra seats.
Storage space is very important since your staff often need to use and interact with them. So you need to make sure all your storage places are easily accessible. This is to ensure efficient and smooth operations. For eg., you should create clear paths from the loading dock to your kitchen's storage areas. If you have storage spaces in the basement or an upper floor, installing a freight elevator could be a great investment.
Prepare for changes
For restaurants, it is important to have a special decor for holiday seasons and other special occasions. Your restaurant might be having parties, business meetings, or other occasions like Christmas and new year. So it is important to temporarily use suitable decor to create that suitable ambiance.
Things To Consider While Designing Your Restaurant's Kitchen
Restaurant kitchens are usually short on space, and no matter how large your kitchen is, your needs will grow and you will have to use up all the available space. Professionals chefs--those who truly understand the restaurant business--will try to use fewer gadgets and devices. Equipment should be chosen such that it can fulfill multiple culinary needs. You and your staff should also plan ways to make every area in the kitchen serve multiple purposes.
Here are some of the best space-saving strategies for restaurant kitchens:
Design the kitchen layout so that your cooks need to move as little as possible.
Design your restaurant kitchen so that the most used refrigerated ingredients are quickly available.
Store tools with similar functions together--a missing tool can easily be replaced with something similar in a rush situation.
Draw outlines to organize the storing process. It also helps in finding the right tool when needed.
Designs kitchen stations strategically so it can be efficiently used for slicing & prepping duties, frying, sautéing, making sandwiches, maintaining heated food, storing refrigerated items, and plating.
Vertical spaces and shelves can help in finding essential tools and equipment when needed. So repurpose empty walls and cabinet doors to store essential knives and tools. Shelves under work tables are also important storage areas.
A clear path to storage spaces for the dishwashing staff is also critical during busy service times.
Tradeoffs are sometimes necessary-- like placing freezers near deep fryers which can increase your operational efficiency but might also increase your electricity bills.
Sometimes, more drastic action is necessary if your kitchen is very small. You might need to remove walls to expand the available space or remove items from your menu. Preparing as much food as possible in advance is another strategy that many restaurants with small kitchens can use.
Common Restaurant Design Problems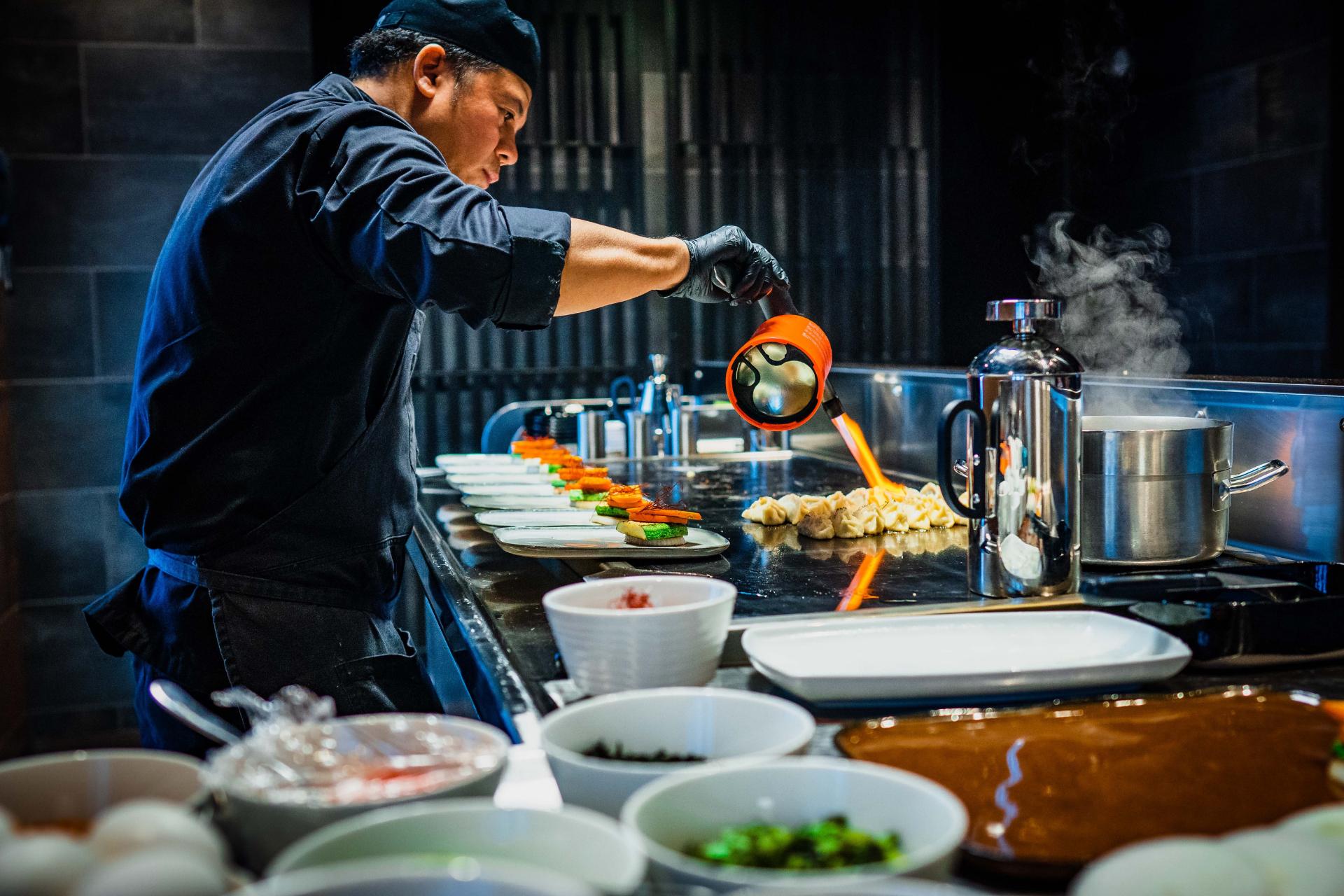 One common problem which restaurants often face is that nobody wants to sit in a certain area or one particular table. You can troubleshoot this issue even before opening your restaurant. You need to sit at every table of your restaurant and note the view from there. If a table seems too near the kitchen, entrance, or restroom, then you will need to make some adjustments. To solve such problems you can place wooden screens or tall plants that can act as a divider.
Environment is an important factor that makes your guests comfortable. However, the environment doesn't always depend on the aesthetics of your design. It also depends on the demographic of guests you have. It is a good idea to separate different types of people to make them feel more comfortable. So, if you have a large restaurant, you can create several dining areas for different types of customers-- for eg. separate dining areas for couples, families, and business groups. A common example is having separate dining rooms for smokers and non-smokers.
Top 5 Tips For Restaurant Interior Design
Here are some tips that can help you while planning and designing your restaurant's interior:
1. Keep a balance between aesthetics and seating capacity
Your restaurant's interior must look great. However, the main goal of your restaurant is to generate revenue. For that, your restaurant also needs to have enough seats to accommodate all of your customers.
So it's important that you do not use too much space for the restaurant's design. You need to keep enough space to offer a good seating capacity.
2. Ventilation and airconditioning is more important than aesthetics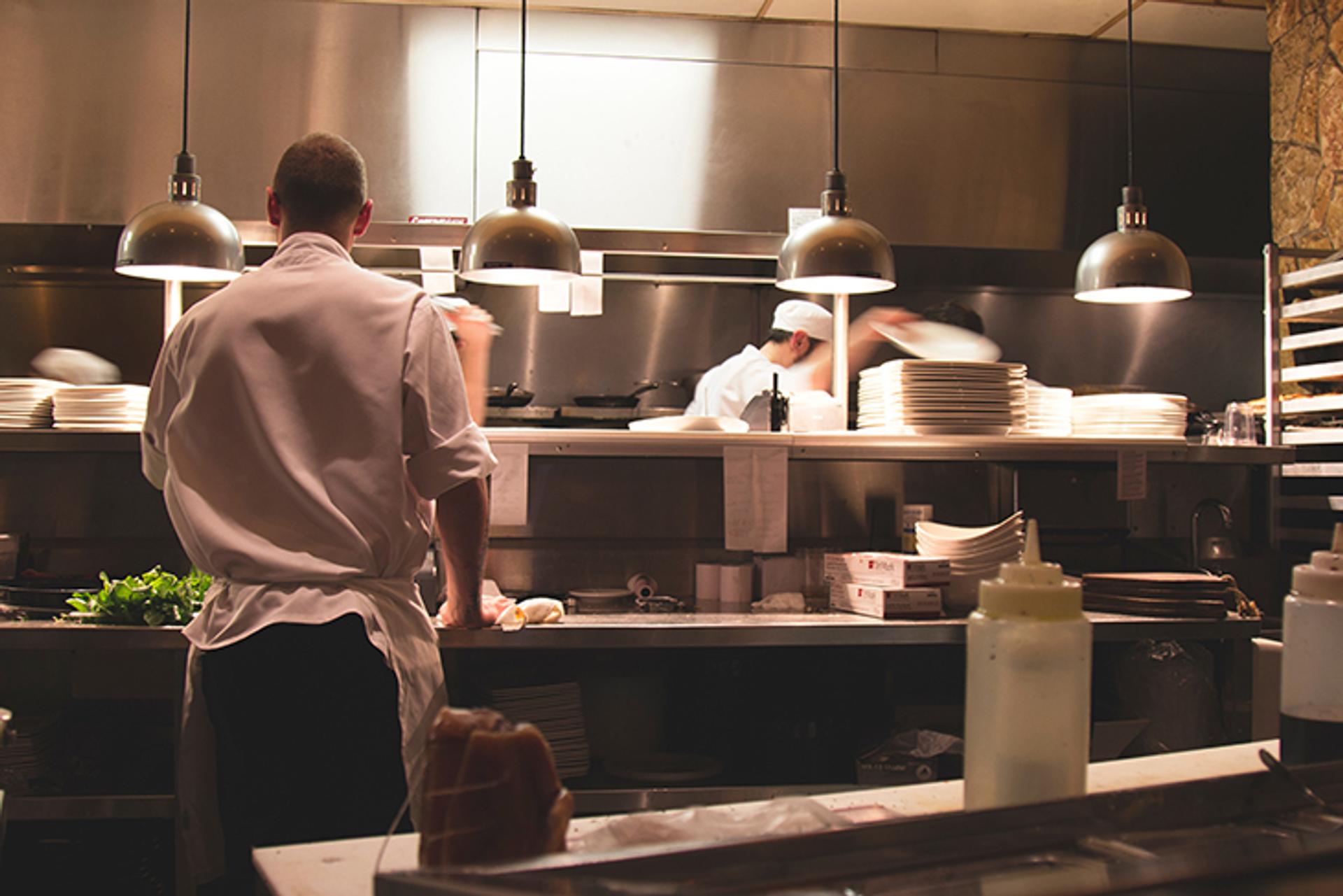 Make sure your design does not obstruct your restaurant's ventilation, heating, or cooling systems. The kitchen generates a lot of heat, smell, and smoke, so it's very important to have a powerful ventilation system.
Also, make sure that your entire dining space is properly airconditioned. Sometimes, some decoration items might block blocking a certain vent in the dining room which can cause excess heat or cold in that specific area. Make sure your restaurant's design allows your airconditioning to work evenly throughout the entire room.
Remember that comfort is always a priority.
3. Use music
Good music can build a positive mood. Plus, if you choose the right kind of music that resonates with your restaurant's style, it will create a great ambiance. Not only this is good for your customers, but it also creates a great workplace environment for your restaurant staff.
Radio is a popular choice which is inexpensive. You can also create your own playlist on Spotify and play that in your restaurant. You can also hire a live band, however, that is often expensive and best suited for bars and special occasions.
4. Choose the colors wisely
Colors have a huge impact on human psychology. So it's very important to choose your restaurant's colors carefully.
We can categorize the effects of colors as:
Warm colors: Red, orange, and yellow are warm colors.
Cool colors: Blue, indigo, violet, and green are cool colors.
Neutral colors: Brown, grey, black and white are neutral colors
Let's understand how colors work:
'Warm colors' are stimulating. They draw our attention and increase our appetite. That's why you will often see red and yellow colors in the logos of fast food companies and in their restaurant designs.
'Cool colors' like green have a soothing effect on the mind. Colors like light green and blue create an uplifting and peaceful ambiance. It's a good idea to use these colors in your bar.
'Neutral colors' don't generally have any significant effect on our minds. You can use these colors wherever you want to.
5. Smell is important
Smells also have a huge impact on how we judge a place. We are very sensitive to smell especially when we are eating or getting prepared to eat.
A restaurant should only smell like food! Obviously, it is important to avoid strong smells like cleaning chemicals. But you also don't want to have any strong perfumes or colognes. You should also ask your staff to not wear any kind of strong perfumes. This is because strong smells can often disturb a person's appetite. 
Interior Design For Your Bar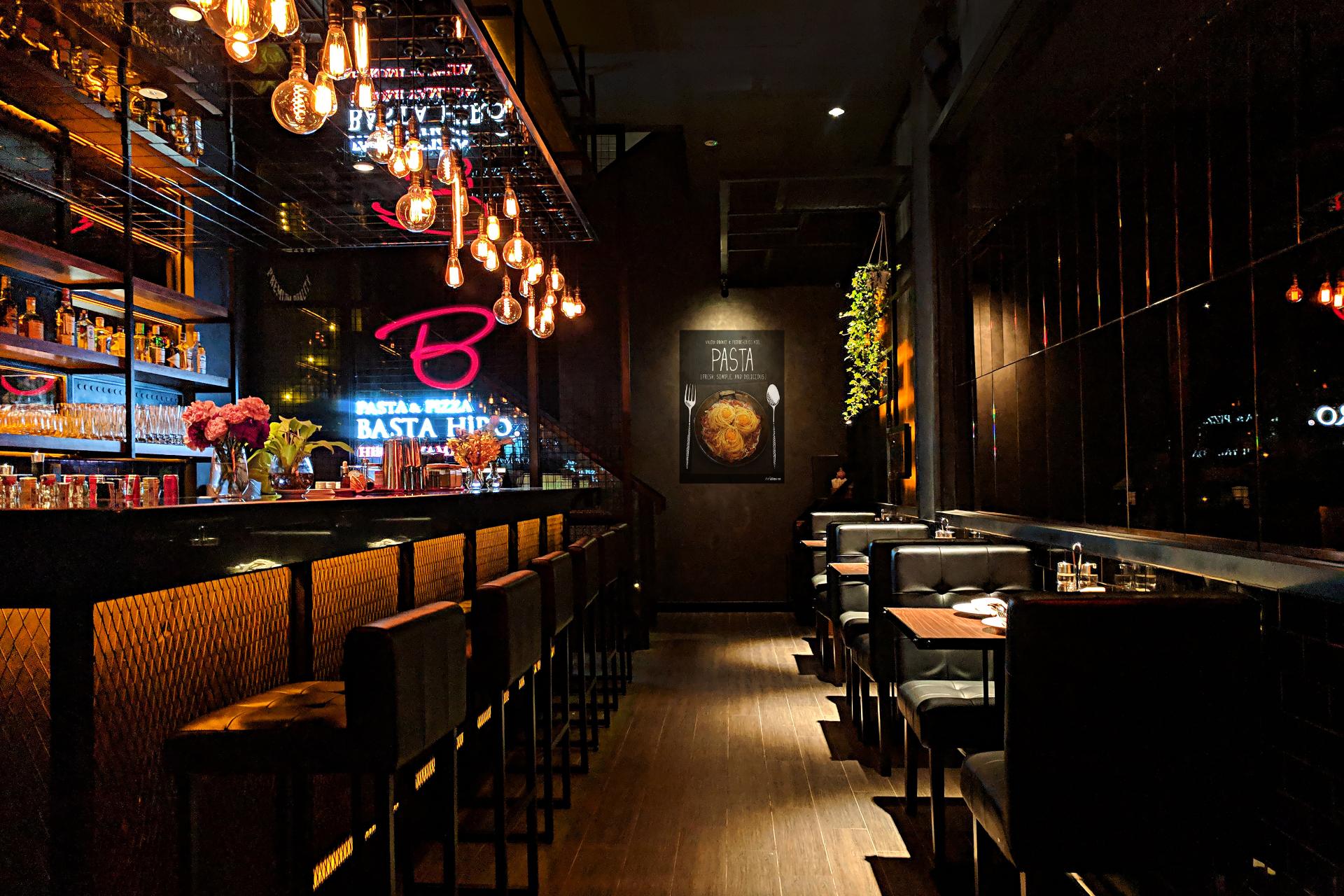 Bars are often very successful in attracting a specific type of guests--young urban professionals and millennials. One study found that 68 percent of restaurant customers are willing to spend their entire evenings in a restaurant that has an appealing bar. Designing for the bar lover customers includes creating a comfortable space where they can eat or drink. It might be necessary to design a separate food preparation area to increase the efficiency of ordering food at the bar.
You can make your bar and restaurant have the same design or you can create a separate ambiance for your bar. It depends on your restaurant's design. If your restaurant design can suit your bar, then you can integrate your bar smoothly with your restaurant. However, you can also let your bar have a separate ambiance from your restaurant. You can do this by placing your bar in the corner or placing a wall between your bar and restaurant.
To get some more ideas, you can Google search 'top bar designs'. Implement what you like, however, always make sure that the design is functional.
Tip: The lighting for your bar should be bright enough for your customers to read the bar menu.
Also, if you want to create a cozy and quiet environment, carpets and rugs may be the way to go. Moreover, they're less expensive and easy to replace if damaged.
How Much Does Interior Design Cost?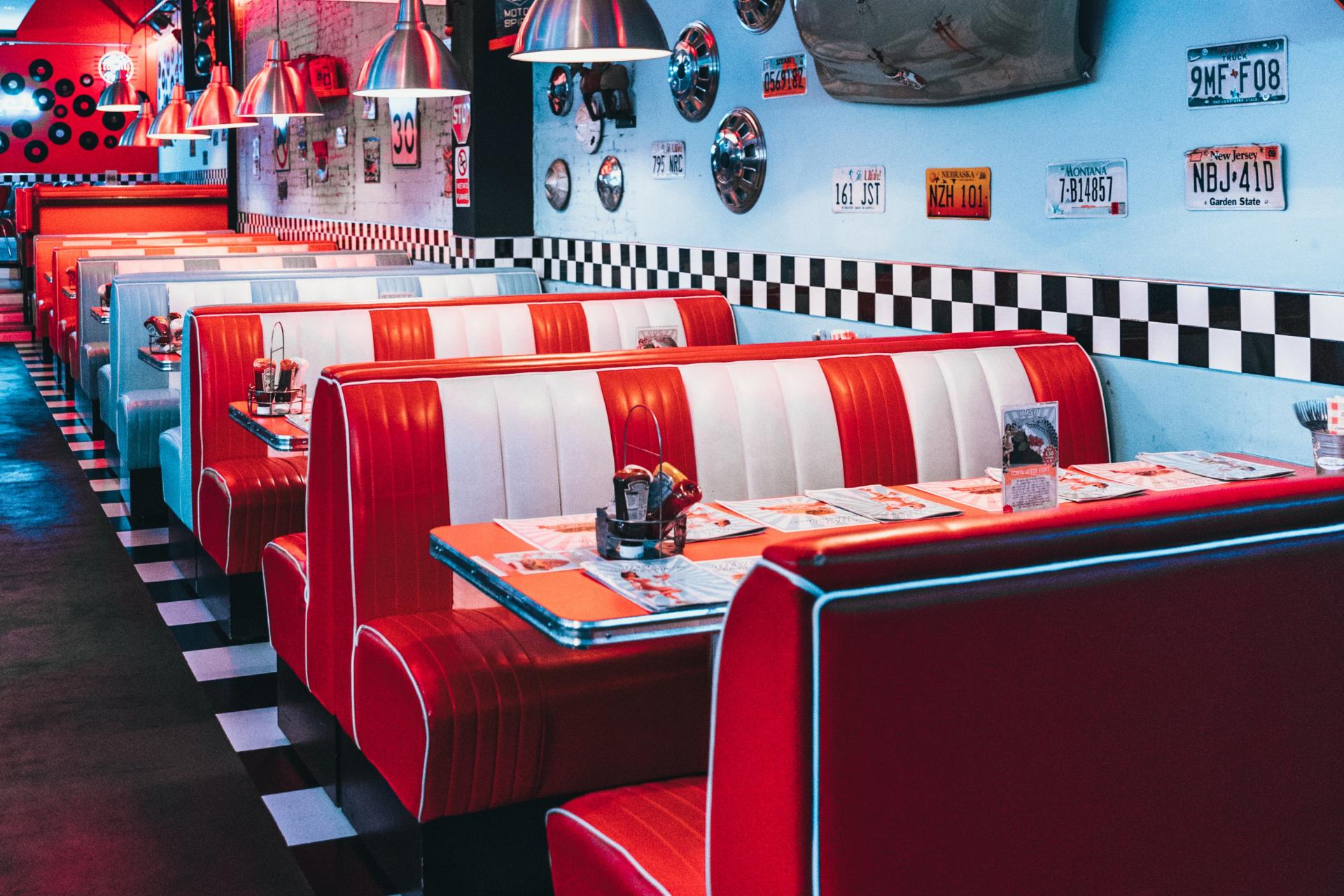 First, you need to consider your business plan and the type of restaurant that you want to start. For example, fine dining requires a bigger investment in designing than a fast-food restaurant. The costs of building a restaurant vary according to location and concept, but averages run between $85 and $300 USD per square foot.
The design should cost about 10 percent of the construction budget for the entire restaurant. However, you'll spend more on a fine dining restaurant, bar, or a place with live entertainment.
Conclusion
As we mentioned before, you need to think about both functionality and aesthetics while designing your restaurant. So it's better to first think about the functionality & practicality before thinking about the aesthetic design. Don't get fixated on a particular design.
When both functionality and aesthetic design work seamlessly together, the result can be an extraordinarily appealing and successful restaurant. No matter how great your restaurant looks or how wonderful the food is, your success depends on seamless functionality, efficient service, fast preparation time, and customer comfort.