Catering can generate more income for your restaurant and help you overcome the limitations of a small dining room without many seats. Table turnover is a problem for all restaurants, but it's even more serious for small dining rooms. If you develop an organized catering program, you can increase restaurant income and profits substantially. Recent research found that the restaurant catering business is booming; revenue from restaurant catering is four times higher than the income generated from catering at club stores in the United States.
Depending on your cuisine, you might need some special equipment such as food-holding tables, packaging supplies, table settings, glasses, tablecloths, napkins, centerpieces and condiments. You'll need tubs to hold dirty dishes and some way to keep food at safe temperatures during transport. Cambros or other brands of insulated containers can help to keep food hot or cold for nearby bookings.
One solution is to outfit a van or food truck to reheat chilled food on-site. Chafing dishes or hot plates will be necessary to keep the food hot during service. As a restaurateur, you probably have many of these items already, so the investment costs usually aren't overwhelming.
You can use your staff during slow times to handle most of the work, so your labor costs can be reasonable. Depending on your cuisine, you might supply servers for fine-dining events or serve food buffet style. However, there are also simple catering strategies where customers just pick up prepared or chilled foods for complete self-service. This is a great way to start a catering business without incurring lots of expenses. You can expand as your business grows.
Developing a Catering Menu
You might occasionally accept a catering job for food that you don't normally prepare, but your menu should serve as a template for the kinds of catering packages your offer. Your regular customers become instant prospects because they already like your food. You should also explore creating dishes from the food supplies you already order regularly. Creating a catering menu won't limit your business but promote it. You can create prepackaged menus for different events such as weddings, receptions, parties, home dinners and fundraisers.
Prepackaged Catering Deals
You can create catering deals that focus on breakfast, brunch, dinner or appetizers for a cocktail party. These deals don't have to be fancy; in fact, catering for casual dining increased by 14% in 2016, and fast-casual catering grew by 11%..
Typical catering packages might include any of the following ideas:
Stationary Hors D'oeuvres Platters

These can feature your best-selling appetizers and sampler-sized portions of other menu items.

Dessert Trays

These can include mini pastries, cookies, pralines and brownies cut in quarters. These make incredible holiday gifts, and many dessert items don't require constant refrigeration. Local businesses will often order these as gifts for employees and their best customers.

Box Lunches

These are among the simplest catering items to sell for business meetings and catered lunches. All you need is a selection of cold sandwiches, a condiment and plastic-ware sleeve, a few chips wrapped in plastic and a cold salad of some type such as pasta salad, coleslaw, potato salad, etc. Dessert can be a cookie, brownie or other treat. These can be prepared the day or night before and kept refrigerated until the order is picked up or delivered. Canned or bottled beverages can be included optionally.

Buffet Meal

You can choose several of your best-selling entrées and sides to prepare a buffet meal. Setting up a buffet line is also the most convenient way for your staff to serve people at a sit-down or fine-dining event.

Sandwich Buffet

This is similar to box lunches, but you serve sandwich halves on a platter. You can mix the variety on each platter or use separate platters for different sandwiches. It's best to provide a separate platter for condiments, dressings and extras such as lettuce, tomatoes, onions, pickles, avocado and other sandwich extras.

Receptions

Depending on the reception, you might offer several entrée choices, a fruit and cheese selection, vegetable crudités with assorted dips, antipasti, desserts and bar and beverage offerings. However, you've got to research your local alcohol regulations to be sure that you're allowed to supply alcohol for off-premises catering.
Sports Matches and Occasions
Sports matches are popular occasions for catering. In the United States, tailgating, playoff and Super Bowl parties are common. In Europe, impromptu parties might be held at a favorite pub near the stadium or at private residences where friends gather to watch a game on television.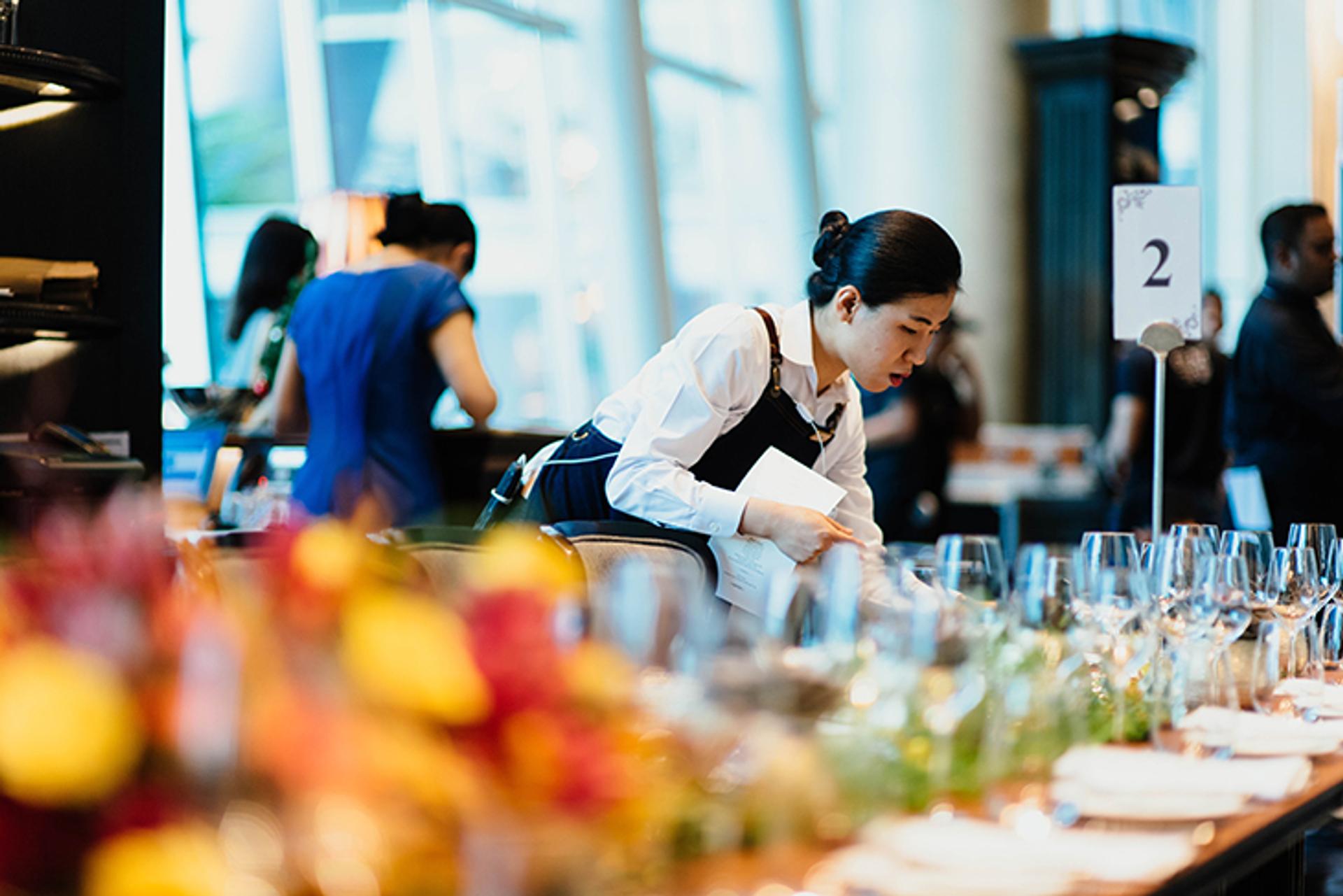 Training Your Staff
Your staff members can become your greatest assets if you manage them effectively. Your servers will not embrace catering work that doesn't generate tips, so you should designate a salaried employee to coordinate catering responsibilities. The best policy is to enlist tipped and non-tipped employees during off-peak hours. If you enlist tipped employees to serve or work at a catering event, you might consider adding a mandatory tip to the catering charges or paying the employees a special bonus to keep them happy. Disgruntled staff can cause all kinds of problems if they don't want to work a catered event.
Each employee should be trained in how to handle a catering inquiry . That's why creating a catering menu with predefined offers is so valuable. Each staff member can book a catering job on the spot to prevent customers from contacting a competing restaurant. Many people don't like to wait for an estimate and confirmation, so training your staff to book catering jobs is a big benefit.
Marketing Your Catering Services
Most of your catering prospects live or work within a few miles of your restaurant unless you offer highly specialized foods that are hard to find. It's important to market your services on all platforms where you connect with customers so that people understand that your catering service is an important part of your business. Successful catering services at restaurants usually follow these practices:
Appoint a catering or events manager.
Take routine catering jobs over the phone.
Maintain contact with catering customers, and actively sell services for special events and holidays.
Check on each client's experience after the catering job.
Acknowledge any complaints, apologize and attempt to make things right.
Starting a Catering Rewards Program
You can create a catering rewards program to encourage businesses and individuals to order catering services more often. Some POS systems automatically track and manage loyalty programs, but you can easily track these orders with a simple POS system and send marketing messages and information about rewards status and incentive offers..
Great Opportunities for Catering
Holiday parties, sports matches, open houses, business meetings, car dealership events, company barbecues and picnics are just a few examples of catering jobs you can easily book. The key to success is marketing your services across multiple promotional channels. You should create a catering menu and brochure, mention your services on your website and in your regular menu. If you have an electronic sign system, you can promote catering services on a big screen. Traditional signs also work, and it's easy to create a blow-up of your menu to poster size at the local copy shop. You can also hand-deliver brochures to businesses in your area. You can also join local business groups to promote your services because many offer free promotion of your business in a newsletter and/or access to a membership list you can use to market your services.
Getting started could be as easy as offering large quantities of box lunches at a special price. You'll be surprised how beneficial creating a catering program can be for increasing your daily sales.