Opening a restaurant, bar or food truck in San Francisco has one built-in advantage: the people in the city are connoisseurs of good food. San Francisco is the top digital tech city in the country, and tech entrepreneurs increasingly rely on the food delivery chains that got their start in the city. From great Chinese takeout to clam chowder served in a sourdough bread bowl, San Francisco encourages new talent. Unfortunately, the restaurant business isn't as easy as making great food - even if you plan to serve a magnificent cioppino, a San Francisco favorite.
You need a trendy idea, a wicked recipe or a social hook to enjoy great success. You also have to get the right permits and licenses for your restaurant business, so I'm writing this guide to cover the basics that you must have to open your restaurant.
Business License
Every restaurant, food truck or bar in San Francisco must get a business license to operate in the city. It's important to check with businessportal.sfgov.org to get the latest information on registration and fees. You can also file your application online in most cases. Fees are based on estimated gross receipts and payroll. At the time this article was written, these were some sample fees for restaurant licenses, based on estimated gross receipts:
$0 to $100,000: $95 + $79 + $100 + $83 + $4
$100,001 - $250,000: $159 + $133 + $167 + $139 + $4
$250,001 - $500,000: $266 + $213 + $278 + $222 + $4
$500,001 - $750,000: $532 + $426 + $556 + $445 + $4
At the time of renewal, you must pay any extra for undercalculation of your gross income. You must pay this licensing fee each year, and any overage can be applied to next year's fee. Partial years are prorated.
This license is required for all businesses that operate in San Francisco County which is bordered in red on the Google Maps screenshot below. San Francisco City and County are the only consolidated city and county pairing in the state. It's the smallest county in the state, and San Francisco and San Francisco County have exactly the same geographic boundaries. The city lies at the northern end of the San Francisco peninsula and is separated by the Golden Gate Bridge to the north, water to the east and west and Daly City and South San Francisco to the south.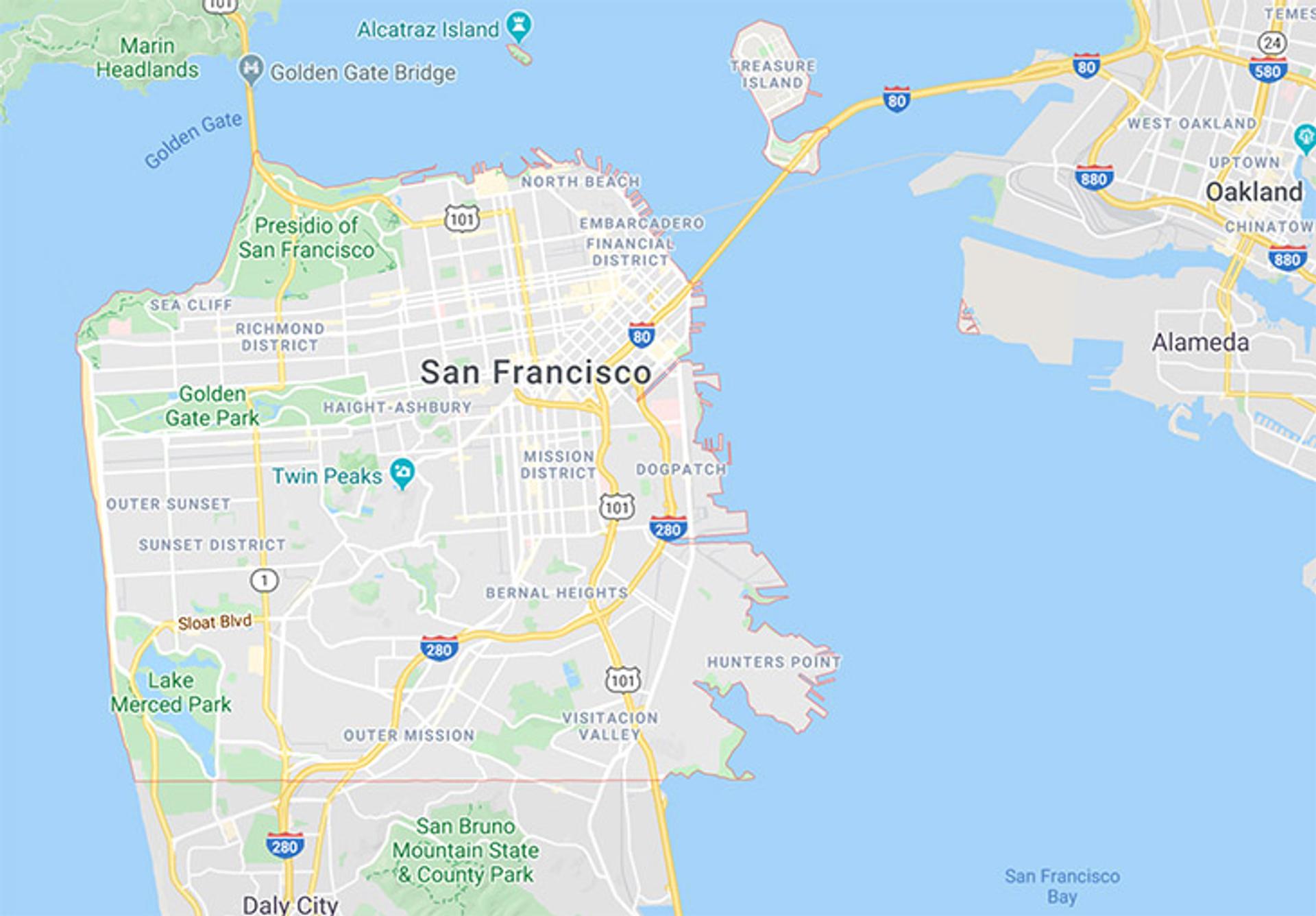 You will need the following information to register for your business license:
Name of the business
Tax ID number, or EIN
Start date
Legal structure
Owner(s) name(s) and address(es)
Restaurant address
Estimated annual payroll
Email address
Payment information for your licensing fee
Seller's Permit
Every business in San Francisco needs a seller's permit to collect sales tax and to qualify for exemption from the sales tax on goods for resale. You can apply for your seller's permit at businessportal.sfgov.org
Establishing Your Fictitious Business Name
Unless your restaurant goes by your first and last legal name, you're going to use what's called a Fictitious Business Name, such as "Joe's Eats" or "Lox, Stock & Bagels." California requires researching whether your chosen name is available, registering the name and publicizing your intention to operate under a fictitious business name in a local San Francisco paper for four consecutive weeks. Further information is available at sfgov.com.
It's important to register your business name because a court won't recognize your restaurant as a legal business entity, and you can't get a business bank account in your fictitious name unless you register.
You can run a records search through the San Francisco County Clerk's Office, which is pretty advanced. However, it still might be necessary to run a search statewide or nationwide to ensure your restaurant name won't infringe on an existing business's rights. You can also file your fictitious business name in other California counties, if you plan to operate in them. However, that's seldom an issue for startup restaurant owners.
If you use your legal name for a sole proprietorship, a corporate name or the legal last names of two or more partners, you don't have to file for a Fictitious Business Name. "Jones and Jones Bakery" doesn't require filing, but "Mike's and Ike's" does. If you do need to file, you should get this task out of the way as soon as possible to fulfill the 4-week publishing requirements so that you can get on with setting up your restaurant.
Certificate of Occupancy
Newly constructed or remodeled restaurants in San Francisco must apply for a certificate of occupancy that shows the premises are safe for customers and employees. This requires an inspection of the building and its new construction. You can find further information at sfdbi.org.
EIN Number
You must apply for an EIN, employer identification number, at tax-irs-ein.com to register so that you can withhold taxes from employee income and pay your own estimated taxes. It's an easy process that doesn't require too much paperwork, and the IRS doesn't charge any filing fees to apply.
Health Department Approval and Licensing
You need several things from the San Francisco Department of Public Health to operate a restaurant. The first thing is to apply for a health permit and inspection of your restaurant to see whether your restaurant has the proper sanitation and food safety programs. You can get further information or apply at sfdph.org.
After getting approval to open, you'll continue to receive surprise inspections at irregular intervals, so you must take public health issues seriously at all times. The cost of a health permit runs $904 for restaurants under 1,000 square feet, $1,192 for restaurants between 1,000 and 2,000 square feet and $1,365 for restaurants over 2,000 square feet. Bars without food are assessed a health permit fee of $772, and bars with food service are charged $978.
You will also need the following certifications for your restaurant:
Food Handler Certification
In San Francisco, there must be one person responsible for the safe handling of all food. The certified food handler can be an owner, chef, manager or other employee who passes a food safety course and examination. This person is responsible for all food safety in the restaurant. The class fee for food manager training sponsored by the San Francisco Department of Health is $118 or $206 per hour for private training.
Food Handler Cards
All employees who work in food production or service must obtain a food handler card after taking a safety course and passing an exam. ansi.org maintains a list of certified food safety programs. All employees working in food preparation and service must obtain their food handler card within 30 days of their hiring date.
Liquor License
Unfortunately, getting a liquor license can be challenging in San Francisco, so it's a great idea to review the laws, costs and difficulty level before submitting permit applications. Liquor licenses can be bought from the state or from the open market. You can view some of the problems and costs at liquorlicense.com.
Full liquor licenses can cost more than all the other restaurant startup costs combined - often in excess of $275,000 - and you should add these expenses when pricing your alcoholic drinks. A Type 41 beer and wine license costs about about $650 in state fees, and a Type 47 liquor license runs about $12,000, but drinks can only be served on the premises.
These licenses are issued by the state, but they only allow on-premises consumption. You might elect to get a beer and wine license, which is considerably cheaper than a liquor license. You can get further information on the types of licenses or apply for a license at abc.ca.gov.
Permits for Signage
You need a permit for signage that you restaurant will use to identify the business to customers and market your food to passersby. You can apply for a signage permit at businessportal.sfgov.org.
Options and Decisions
Sure, there are things I haven't covered because they're not essential to get started. Opening a restaurant is expensive enough without trying to start out like a Michelin-Star operation. You can add music, entertainment, outdoor dining, social media campaigns, delivery service, valet service and other options as you grow. I recommend that you keep all your technical restaurant information in a special folder to make filling out paperwork less of a struggle.
Paperwork has always been an essential part of the restaurant business, so it's best to bite the bullet and plow through it. San Francisco offers online assistance and accepts online applications for most permits, so you can save a lot of time when compared to what past generations of restaurateurs faced. The SF Business Portal is an amazingly intuitive resource for applying for most of the licenses you need.
Armed with determination and information on every aspect of your business, you can get through most of the paperwork in just a couple of days, though you might wait longer to receive hard copies of some of the permits. You'll also need to wait for a health inspection and approval. If you spend a few hours researching licenses and permits, you can organize your application process for the fastest way to open your restaurant.