Owning a bar is difficult for many reasons — it's a difficult clientele, the location of the bar greatly affects its profits, and it's difficult to market alcoholic beverages.
However, doing traditional and digital marketing for bars is not a challenge that you cannot overcome with the right strategy.
In this article we'll talk about:
7 revolutionary digital and traditional marketing strategies for bars
And the steps you must follow to create effective strategies to promote drinks, spirits, and your bar in general.
Whether you want a quick strategy to implement or a complete guide on how to promote your bar, this article has you covered.
Let's get started!
8 Revolutionary Marketing Strategies to Have a Successful Bar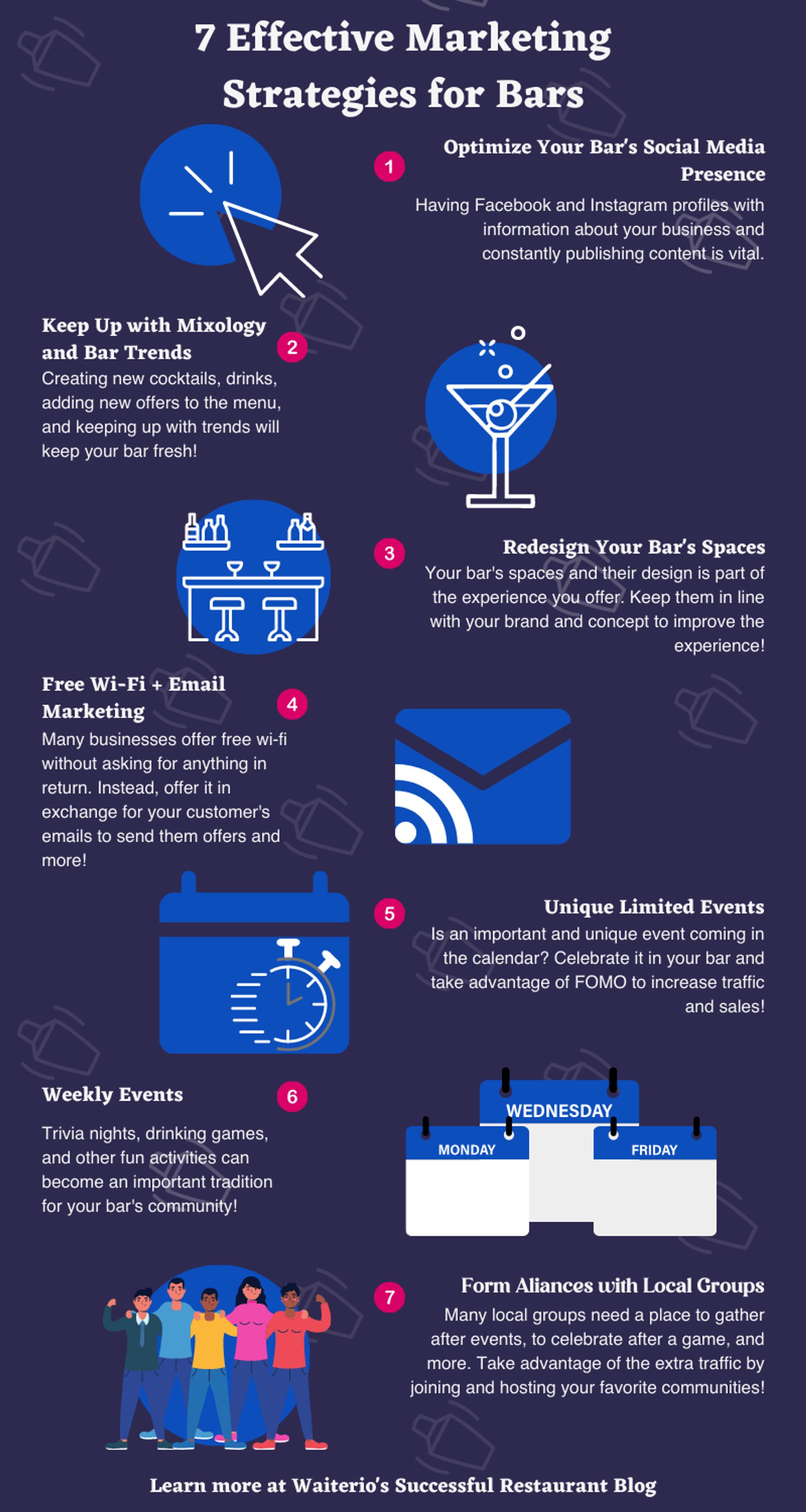 The marketing strategies for bars that I will tell you below are 7 of the most basic that you must apply in your business without exception.
These are the main strategies that you should apply from the moment you open your bar — so attention, new bar owners! These should also be part of your business plan.
But, these strategies may not be enough to increase traffic to your bar if you're already applying them. If this is the case, I recommend you skip to the steps section to create strategies tailored for your business.
As a side note, you need to be very careful when selling alcohol not to run afoul of local wine, beer, and liquor laws. Some cities may limit your ability to advertise or to offer drinking incentives and "happy hour prices". So, if you want to implement that type of strategy, go ahead, but first, study the limits of what you can do.
1. Optimize Your Bar's Social Media Presence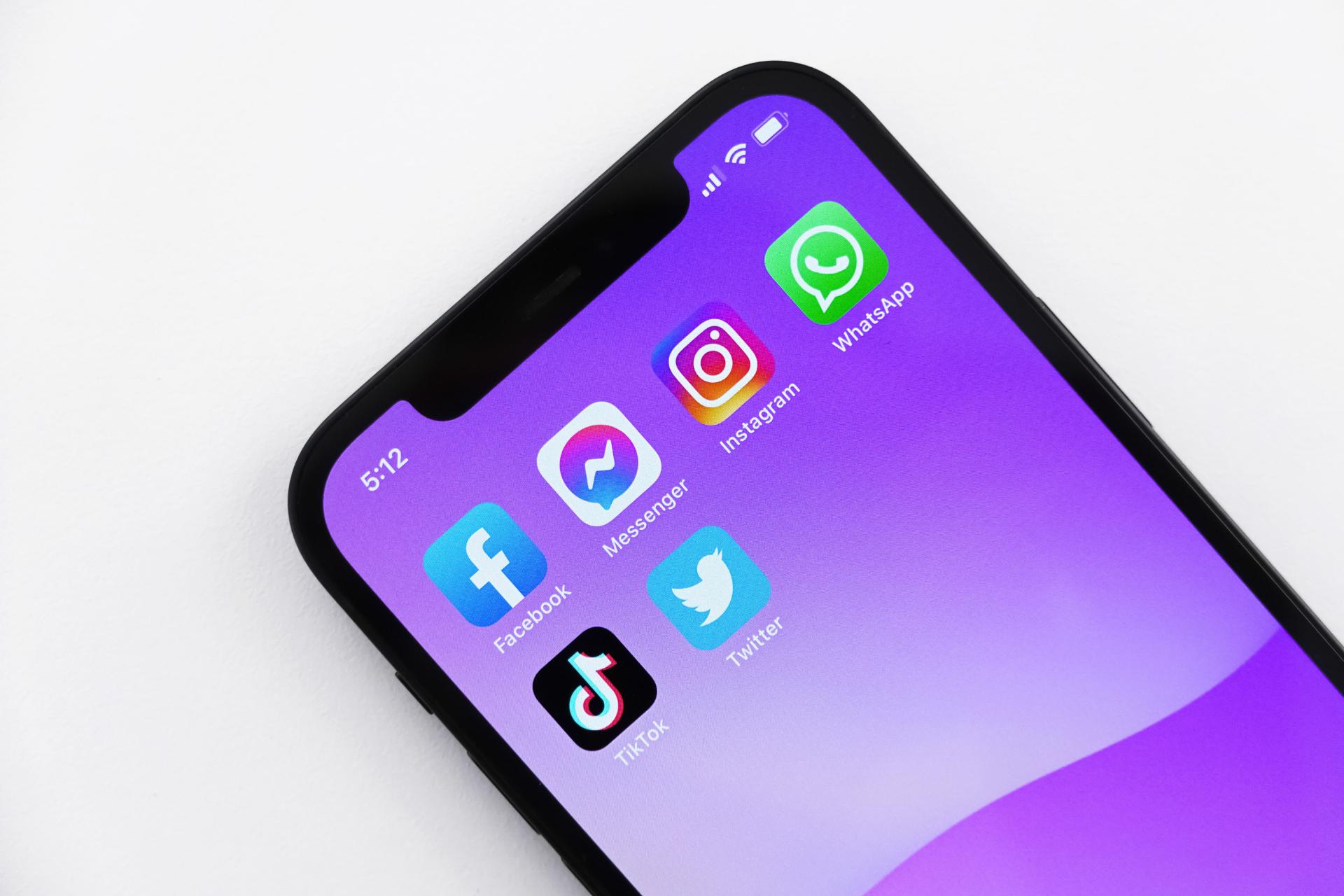 Social media platforms connect people with similar interests and tastes. Millennials typically build an active social life by connecting with people who live near them through social media. There are several social media marketing strategies for bars that you can apply to take advantage of this. The most common are:
Follower Incentives
Incentives are a great strategy to attract certain groups of customers to your bar. Specifically, it is effective at attracting people who have visited your bar or people who have never visited your bar — you can use two strategies for each type of customer.
The strategies for customers who have already visited your bar aim to retain those customers with a service or special offer that catches their attention.
And strategies for attracting new customers draw their attention with common offers that provide a relatively high profit.
It should be noted that these types of strategies are expensive, but at the same time, they can be quite effective if they are planned well.
Incorporate Customer-Generated Ideas
This strategy and the next are vital to building a community of loyal customers around your bar. This is because building a community gives your customers a sense of belonging — which is naturally attractive to people.
Incorporating ideas that your customers suggest makes them feel that they belong to the group, that they have some power over your business, and that their opinion counts.
Of course, you should apply the most viable and profitable ideas. Pay no attention to the customer who always suggests you offer free drinks!
Encourage Community Groups
Social media is the ideal platform to promote your bar space to community groups. They should be groups that exist in your area that are interested in having a place to meet and have a good time. And the truth is that it can invite any group as long as they agree to obey the rules and limits of your establishment.
Local Celebrities and Influencers
You can use social media to reach out to local celebrities and influencers and persuade them to promote your bar's idea, cause, or product. You can always take a more passive approach and make your bar appealing to certain groups of people — local influencers from those groups will surely reach out themselves.
Promote User-Generated Content
Invite your customers to share photos of your food, appetizers, and drinks with eye-catching presentations. You can also share videos, reviews, interesting moments, and more that have been captured by your customers.
These posts are important to show your followers what other customers who have visited your business have enjoyed. They can generate new followers, new interactions, and of course, more people interested in visiting your bar.
Promote Your Staff
Promoting your staff on social media is important to humanize them in the eyes of your guests. This is vital for your employees to be part of what makes your bar exciting, engaging, and fun. Especially if it is an informal bar where your employees interact a lot with customers and are an active part of the community.
In addition, your employees will also benefit from this, since you will be creating a social proof that they are competent and professional as bartenders, waiters, security personnel, and more.
2. Stay On Top of Bar and Mixology Trends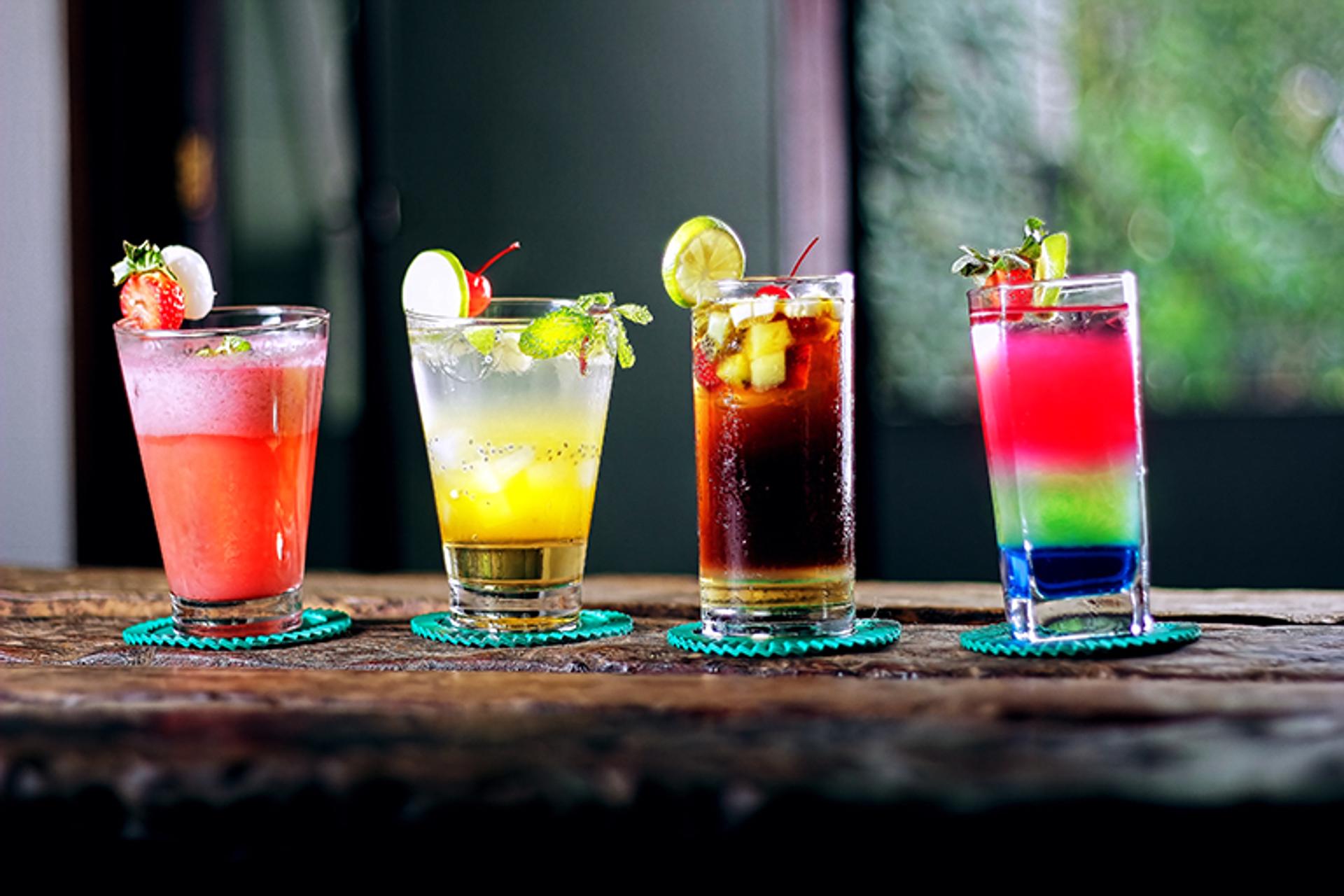 There are many new drink trends this 2022 that have been born with the return of the world to bars while the pandemic is in recession — although we should not blindly trust this just yet.
The bottom line is that new mixology and bar trends have emerged, and if you're not keeping up, you're losing money and customers.
Some of the more exciting drink trends include:
The revival of classic cocktails — cocktails from the 90s and 2000s are back, they're in, and now they're called vintage.
Also, bottled cocktails, one of the most interesting trends to emerge during the pandemic, are here to stay.
Classic drinks reinvented with local products are always good to have.
Now more people prefer soft drinks. Non-alcoholic beer, non-alcoholic wine, and non-alcoholic alcohol — no kidding, there's even non-alcoholic tequila.
And also the creation of cocktails to accompany meals — this is ideal if you have a bar that offers delicious food or a bar restaurant.
These are not all the trends of this year, because it is just beginning. However, if you live in a city that doesn't offer these options, you can easily apply them and test if the market is ready for them. The best thing about this is that you will be the first to do it and that will make you a trend if you take advantage of it well with your marketing strategy.
3. Redesign Your Bar Space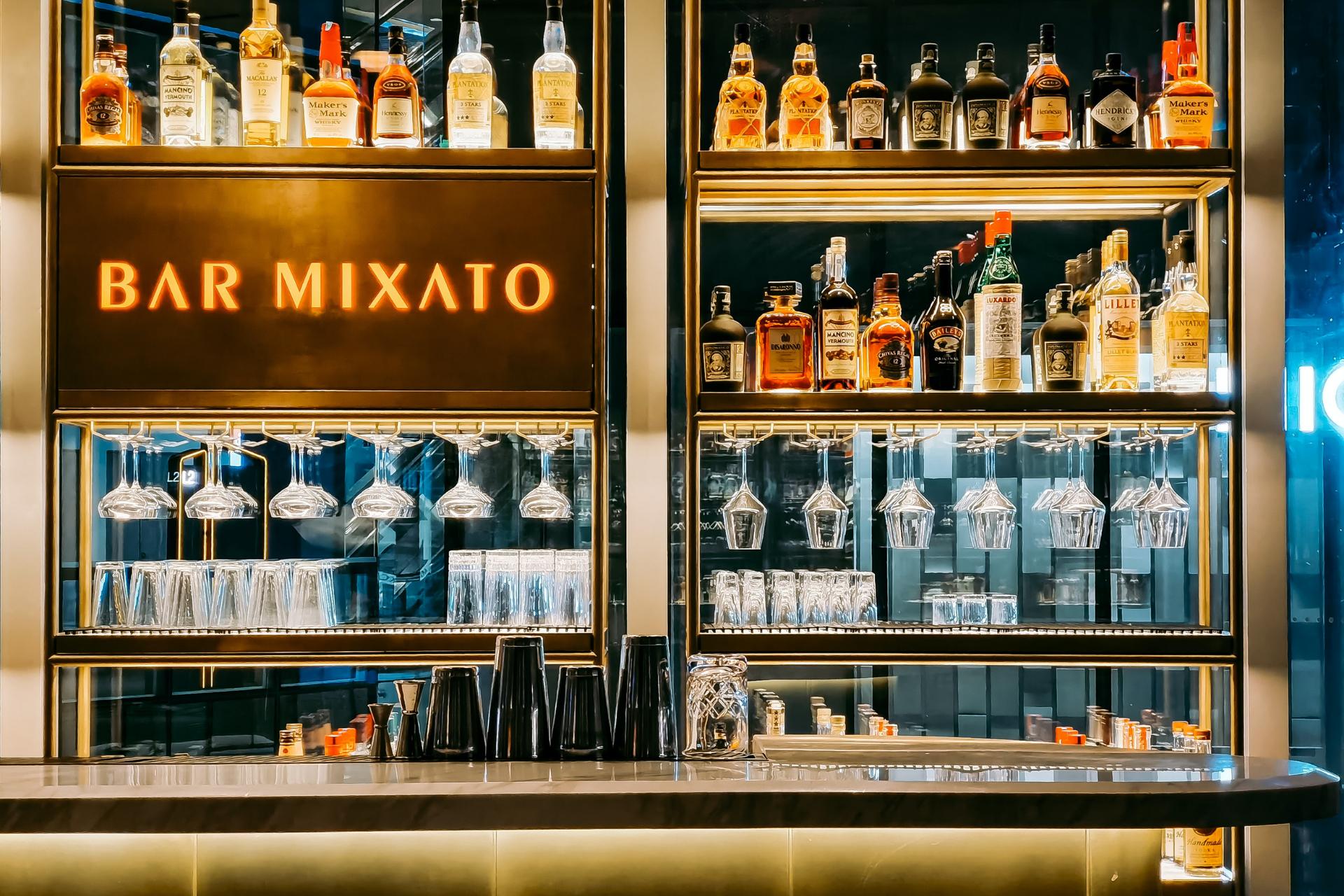 More and more people appreciate the design of certain spaces since this is part of the experience you offer in your bar. Even the simplest bars, designed like basic pubs with benches and tables, offer an experience.
That's why you should study your target audience thoroughly to know what kind of space would be most attractive to them — and of course, you should add this to your marketing strategy.
You can do this by answering these questions:
Do your customers prefer comfort or a quick service?
Do they prefer a quiet, private bar, or a more lively, family-friendly bar?
Do you prefer a bar with enough space to dance or one to sit and chat?
Do they prefer a well-lit bar or a dimly lit bar?
You can ask yourself more questions depending on your target audience. However, the important thing is that you create spaces that are both functional and tailored to satisfy your customers.
You must create a functional design. A bar can be perfect for the customers, but if it is not perfect for the service and your workers, it will not be an efficient bar.
4. Free WI-FI and Email Marketing
Many restaurants now offer free Wi-Fi to their customers without expecting anything in return. And that's great — in fact, it's vital to your customers' satisfaction.
However, this is a strategy that only satisfies your customers, and in which you do not receive anything in return. Noting the high costs of Internet services in America, thinking of earning something in return is not such a bad idea.
That's where your email marketing strategy comes in. With an app called Social Wifi, you can offer free wifi to your customers in exchange for their emails. This application will help you collect valuable information from your customers and then take the final step with a good email marketing strategy.
Email marketing can be very effective for restaurants because it is a very personal strategy. You will have the ability to send messages, promotions, and more to attract your customers. If you plan promotions and messages well, you can maximize your sales, retain customers, and much more. All for an investment of less than USD 100 per month if you use other free digital marketing tools.
5. Limited-Time Events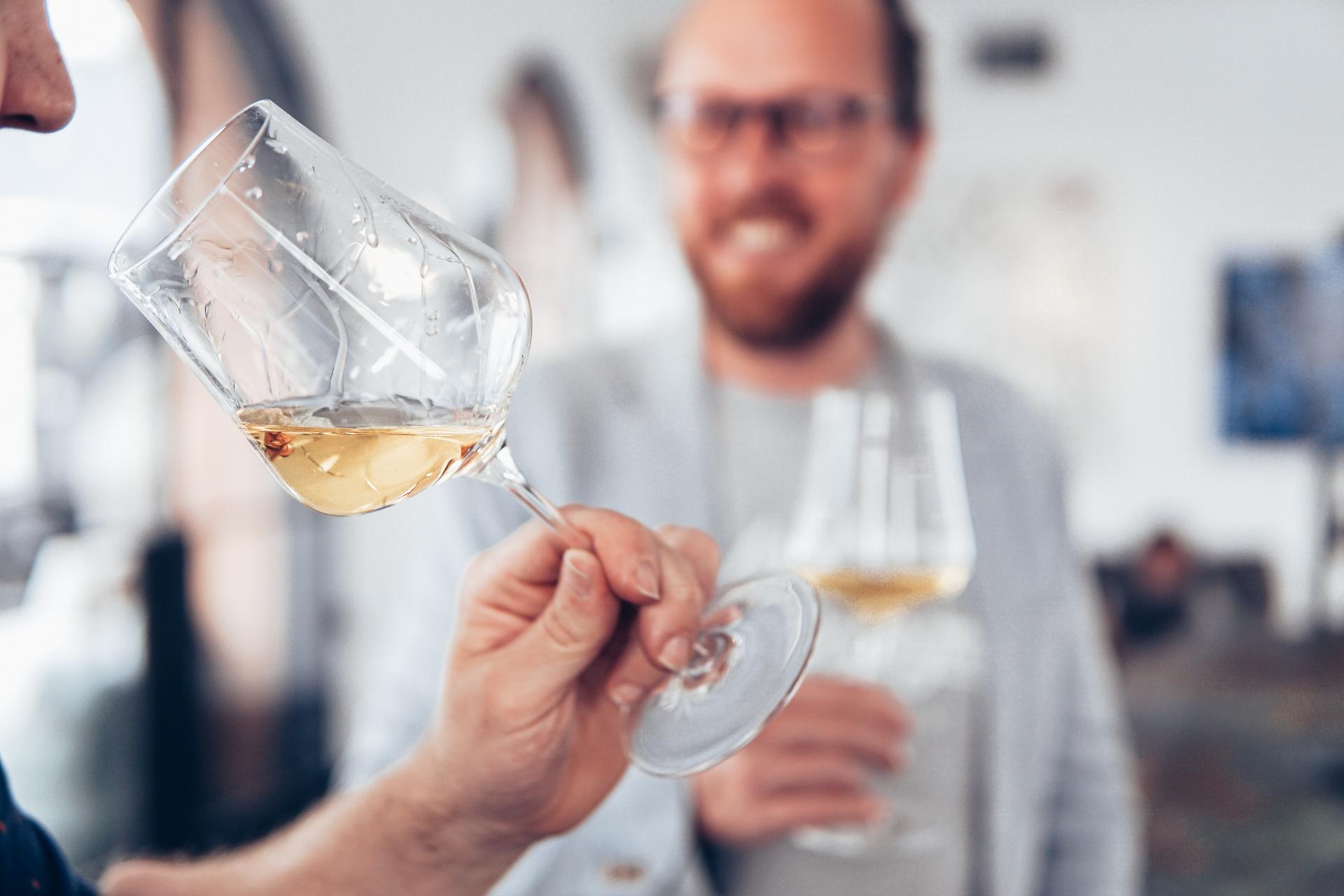 Social drinkers, sophisticated couples, and more enjoy all kinds of tasting events, and they can be for beers, wines, signature drinks, and soft drinks. and even coffee and tea.
You can reap many benefits from hosting a world beer or craft beer tasting event. When it comes to craft beers, promoting them can appeal to millennials, beer aficionados, and people who are curious about the trend.
These tasting events can be themed — such as a particular type of spirit, country of origin, commemorative drinks, and other creative concepts.
Creating a tasting menu with tapas, appetizers, and even full meals in your bar can also attract your target audience.
You should create events depending on the target audience of your bar. In addition, you must focus on the organization, profitability, and promotion of these types of events so that they are successful.
6. Weekly or Recurring Events
Several events can be effective in promoting your bar.
The best options are:
Karaoke. Are there singers among your customers? They will love this!
Live music nightly. So you can support local musical groups, improve the atmosphere of your bar, and more.
Trivia night — quite a successful concept across the globe that can get pretty competitive. They can be based on different themes to attract specific groups.
Drinking games. This is a type of event that can take place organically in your bar if you create a good community around it.
Sports events. Competitiveness in the bar can be replicated on the pitch in a friendly way — and a beer to celebrate will hit the spot.
Video game tournaments. More and more people find that gaming is a good source of traffic for their businesses, especially when it comes to businesses with young audiences. Set up a couple of consoles, screens, and controllers in your bar and start attracting adult gamers.
And much more. The sky is the limit when it comes to events!
Not every event you host at your bar needs to be playful — although they are the most fun and the best for building a community.
The most important thing to organizing recurring events in your bar is to pay attention to what happens in it. You can find out if certain events are right for your bar by answering these questions:
Is there a game that everyone is playing?
Is there a way to integrate it into the bar and service?
Will it be beneficial for your sales or to satisfy your community?
Is it expensive to add this event to your bar?
Will it affect your clientele negatively?
Once you've answered these questions favorably, you can start creating great and fun events for your bar patrons.
7. Team Up With Sports Teams, Local Leagues, and More Local Groups
Bars rely heavily on communities of patrons — that's why I've mentioned building a community for your bar more than once.
One of the easiest methods to attract regular customers to your business is to approach groups that have something in common with your bar's concept or yourself. And of course, one of the most common inclinations or tastes is sports — surely in your area, there are amateur leagues, little leagues, children's leagues, and more.
The goal of this strategy is to form alliances with local teams or leagues to serve as a sponsor. You can offer all kinds of small sponsorships that, for smaller sports leagues, can be a big help.
For example:
You can donate money.
You can donate uniforms and other equipment.
You can offer discounts on the consumption of your bar for team members.
You can offer your bar space for meetings, related events, and more.
The great thing about this is that you can choose a professional, college, or even high school team, and you can invite team members after a game.
It should be noted that they can not only be sports teams. You can apply this same marketing concept to any organized group in your city.
Also, if you want to make your bar different, you can sponsor alternative or unconventional sports, such as e-sports, card games like Magic, Dungeons, and Dragons, or even Quidditch. These groups are no longer segregated because geek culture is in — deep down, we're all a little bit geek.
If these groups do not exist in your city, but you know that there is an interested audience, you can start creating the groups in your bar and take advantage of all the initial traffic.
The most important thing about this strategy is that you and your bar become an important part of the community. That is why it is recommended that you join groups and causes that you care about.
Steps to Create a Marketing Strategy for Bars
Now I will give you the steps you must follow to create a digital or traditional marketing strategy to have a successful bar. To have a successful bar you have to:
Understand your customer's preferences.
Keep your drinks and food offer updated to satisfy their tastes.
And, yes, I'll say it again — create a community around your bar.
Keep this in mind as you read the steps below, as these maxims should be part of your goals when running a bar. Why? Because regular customers will generate more profit for your bar than new customers. That is why customer retention is key.
However, not all bars are at the stage where they need to start building a community — some are in the process of gaining more customers or fine-tuning their value proposition.
Therefore, you should be aware of the current state of your bar before following these steps religiously. Only in that way can you modify them to better adapt them to your situation.
With that said, let's talk strategy!
1. Define Your Specific Goals Based on What Your Bar Needs
The most common goals of bar owners are obvious — increase sales and maximize profits.
But vague, generic goals like that aren't really helpful. This is because:
You cannot create a viable strategy with goals that do not identify a specific process of your bar.
You cannot improve this strategy because it is poorly defined.
And you cannot record or measure the results of an improvised strategy without actual goals.
Therefore, it is highly recommended that you define the marketing objectives of your bar taking into account specific processes. You should also set achievable, measurable, short-term goals for sustained improvement.
The objectives for the marketing of your bar should be more like the following:
Advertise your bar to local potential customers before starting your bar.
Promote original alcoholic beverages from your bar in specific marketing channels.
Improve your social media presence — increase your followers, account interactions, and more by a set goal percentage.
Attract important demographic segments of your city.
Promote certain alternative drinks from your bar — non-alcoholic, low-alcohol, mocktails, and more.
Identify local trends to create a marketing strategy that allows you to attract a local community.
Adopt GPS mobile location-based marketing. One UK survey found that 66% of marketers now believe that location-based marketing offers the most promising advertising promotional opportunities for using digital technology.
Promote the spaces of your bar, its characteristics, and the experience you offer.
Improve customer retention rates by creating a strategy and an assessment method, like surveys.
Again, you must define these goals considering the state of your bar. You can ask yourself these questions to know what the next step is:
Do I have a regular customer base or do I need to attract new customers?
Are my regular customers satisfied? Can I satisfy them even more?
Am I selling the most profitable drinks in my bar at a good rate?
Do I have any drinks that are not selling so well? Can I improve the sales of those drinks with marketing or should I reinvent/replace them?
Is it possible to create a community of customers in my bar? Are there enough regular customers to support my business?
Do I have a good online and social media presence?
What does my bar, my sales, or my customers need? Are there common complaints?
Once you answer these questions, you can start creating a strategy.
Sure, creating these goals is much easier when starting a bar — if you're just starting, you probably just need to create new customer acquisition goals.
However, the further you go, the harder it becomes to upgrade your bar, and you'll need to start creating smaller goals like:
Increase my customer base by 10%.
Increase sales of alcoholic beverages by 15%.
Promote a new drink until reaching sales equivalent to 50% of the sales of the bar's flagship drink.
Promote my bar's recurring events to achieve a 20% increase in attendance.
Advanced goals are more about optimizing and retaining regular customers — though you can always start bringing new customers to your bar.
2. Do a Market Study to Find Out What Your Customers Need and Want
A market study is quite useful when designing marketing strategies. Why? Because these studies help you understand your target audience and generate buyer persona profiles. Basically, they are fictitious customer profiles that get you closer to understanding your perfect type of customer.
In addition to that, they also give you information about the competition and the local market. And this is very useful to know what works best for your competition, and what does not work, and also to anticipate your competition's reaction to your new strategies.
Once you understand your customers, it will be easier to know what they want, what they are looking for in a bar, and what you can do to satisfy them.
There are many ways to do market research, however, it is best to seek help from a local expert. This way you can have very useful and reliable information to create effective strategies.
It is a good idea to do a market study every time you achieve the objectives of your marketing strategy — these studies become more important the further you progress.
You can also conduct low-cost market research yourself. If you think it is necessary, I recommend that you read this guide on how to do a market study. This way you will be able to better understand the basic concepts and strategies of this type of study.
3. Think of Strategies Taking Into Account the Information You Collected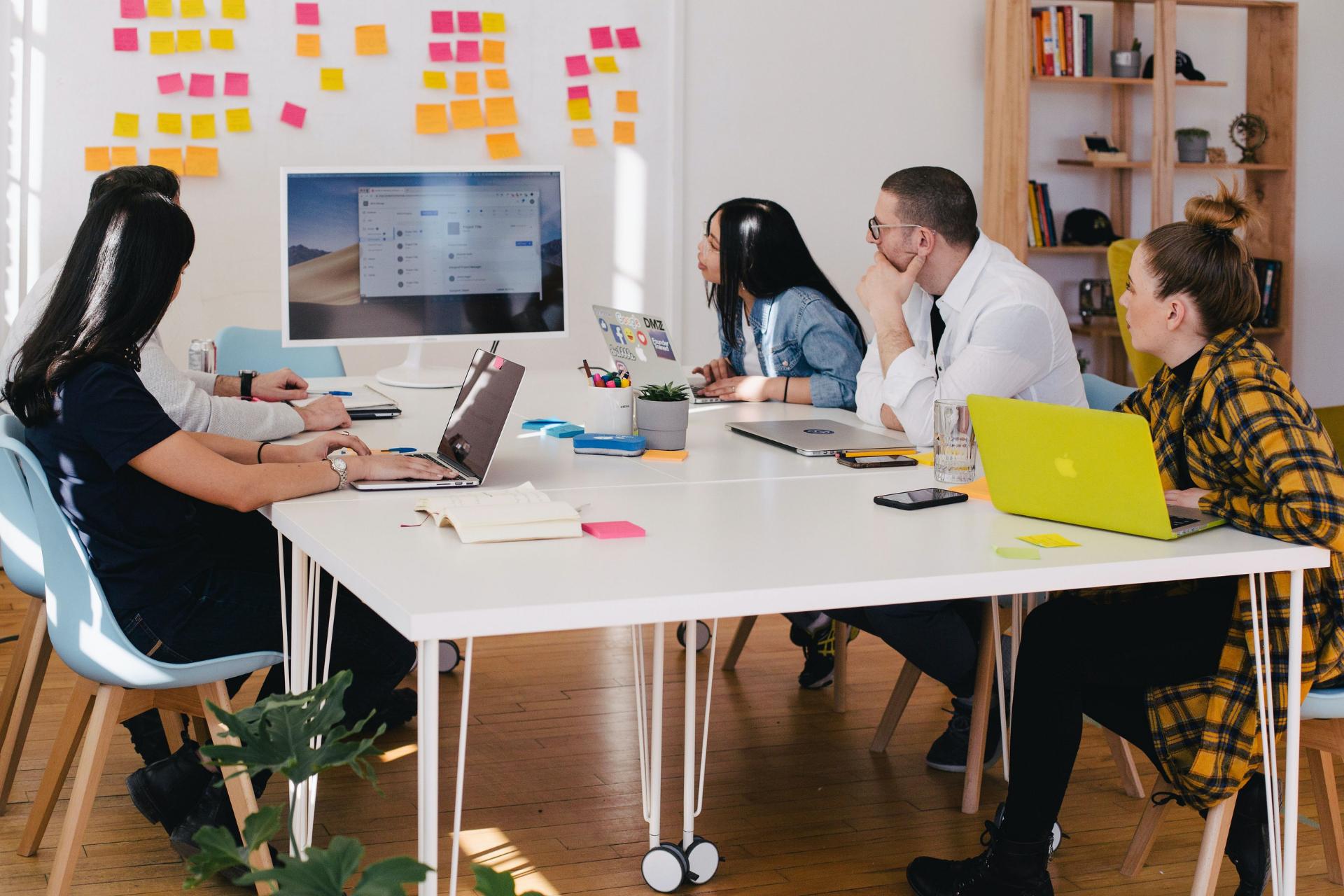 Once you have collected the information and defined your objectives, you must begin to generate strategies. There are three main rules that you must follow to create effective marketing strategies:
The first rule is that you put the viability of the strategy before its effectiveness. There are very effective strategies, but they are not very profitable or sustainable even in the short or medium term. Unsustainable strategies can negatively affect your business.
The second rule is that strategies must be accompanied by a measurement system. Being able to measure the effectiveness of the strategy at any time to know if it is a good idea to double your efforts, your budget, and other resources.
And the third rule is that there are no more rules.
With these three rules in mind, you will be able to create marketing strategies for your bar that are effective, profitable, and measurable.
Once you get used to these rules, the only limit will be the creativity of your strategies. You can apply the strangest or even crazy strategies to meet your marketing goals — let your creativity run wild as long as the first two are met!
4. Create a Budget
After you create profitable, sustainable, effective, and measurable strategies, it's time to create budgets. Budgets are important when creating marketing strategies because they allow you to control them easily. Not budgeting can make you spend more than you should, go into debt, and more.
Therefore, my main recommendation is that you create several operating budgets for the different strategies that you can think of. Specifically, I invite you to create:
A budget to test the strategy. Reaching about 200-500 people would be enough for testing purposes.
A budget to implement the strategy on a small scale. Think of strategies that will reach between 1,000 and 10,000 people. These can be digital marketing strategies, SEO, social media, email marketing, and more alike.
A budget for the medium scale. This budget should be enough to reach a figure between 50,000 and 100,000 people.
And finally a budget for a large-scale strategy. This budget will surely reach more than 100,000 people.
It should be noted that the meaning of small, medium and large scale can vary greatly depending on your business. There are companies for which large scale means entire continents. For this reason, in many small businesses and with a more local target audience, it is not necessary to create medium or large-scale budgets.
However, medium and large-scale budgets are perfect for businesses with more scope and reputation, like franchises at the local, state, national, and international levels.
5. Test the Strategy
Testing a marketing strategy on a very small scale can save you a lot of money in the beginning. In addition, it helps you understand marketing strategies with direct practice. To do this, formulate a strategy in its entirety, and start applying it by targeting a small number of people — from 200 to 500 people, as I mentioned in the previous step.
From this small test you will be able to obtain very valuable information:
The effectiveness of your marketing strategy.
The effectiveness of your measurement methods and tools to analyze the results.
You will test how your bar behaves if the results are favorable.
And more.
A simple test will help you know how many people on average you can attract to your bar with such a strategy. As a measure, if you manage to attract about 25 people out of 100 (that's 125 people or 25% of customers if you use a budget of 500), you should consider this strategy effective.
Although this depends on the situation. For example, new bars can get higher percentages of customers from their marketing strategies. At the same time, bars with more time in the market and several marketing strategies implemented can benefit a lot from converting just 5% or 10% of the clients.
6. Create a Base Marketing Campaign for Your Bar
Once you have verified the most effective strategies for your bar, it is time to create a campaign that encompasses several marketing strategies.
Having a base marketing campaign is quite common in various business niches. By that I mean 1-3 marketing strategies that are applied at all times.
For bars, you must define the base strategies from day one — from them you will build other more specialized campaigns.
The three most common base marketing strategies in bars today are:
Social media marketing. This includes creating profiles on at least Facebook and Instagram, creating ads campaigns, and more.
Website marketing. This includes the creation of a website, local SEO, SEM, and the optimization of the entire web presence of your business.
Traditional marketing — flyers, ads, neon signs, logos and slogans, and more.
Suppose you don't have enough time or expertise to do it yourself. In that case, you can always hire professionals like social media and web design agencies in the UK that offer global expertise and support to help you launch a brand-differentiating website and stay ahead of your competitors. You can also find local agencies using DesignRush or freelancers if that's your preference.
These are strategies that most bars and restaurants use. However, what few people mention is that the level of effectiveness of these strategies varies depending on each business. For example, the following three bars may have these same basic strategies, but with marked differences:
There are innovative bars that benefit from a strong presence on Instagram by serving well-presented signature cocktails.
There are also mom-and-pop bars in small towns that benefit more from organizing their operation with close members of a Facebook community.
And finally, there are trendy bars in capital cities that benefit from having a good online presence with a search engine optimized website.
If the people in charge of these hypothetical bars spend 33.3% of the marketing budget on each of the three strategies, they may be missing out on valuable opportunities.
For that reason, it is recommended that you keep an eye on which are the most effective strategies of these three to optimize the investment you put into each one.
7. Implement Other Marketing Strategies for The Bar Taking Advantage of Your Base Campaign
After you have a well-defined base marketing campaign, with a well-done monthly, quarterly, or annual budget, it's time to build on it with other strategies.
It's time to start applying steps 3, 4, and 5 to come up with new strategies.
The strategies you must apply are less common and of shorter duration than the base campaign. That's why they're perfect for promoting new drinks, one-time or limited-time events, and more.
With these strategies, your bar will receive a very beneficial boost in terms of sales and visits.
The best thing is that these strategies are symbiotic with your base campaign.
Now I'll give you a fairly specific hypothetical example so you get the idea:
Let's say I have a bar for young people that's been in business for a year. I already defined my base campaign and it works very well for the bar, which receives visits from new customers and has regular customers every night.
Now, my bar's mixologist is a genius, and he created a delicious, unique, explosive-tasting cocktail that is perfect for promoting my bar concept. It's my new signature cocktail!
To advertise it, I am going to apply the following strategies in a single day campaign:
I am going to do a photo session of the creation and presentation of the cocktail with a professional photographer. These photographs will be published on my social media three days before applying the rest of the strategy.
With the help of my employees, I'm going to offer a free shot of the new cocktail on the busiest night to everyone who hasn't tried it yet.
I am going to create a database with the names and IDs, of the people to know which ones have tried the cocktail and which ones have not.
I'm going to segment the service so that this offer doesn't delay normal orders. This will include booking one more bartender for that shift.
I'm going to set up a bar area to capture high-quality video. In this area, I'm going to capture the reactions of those customers who try the cocktail for the first time with a phone with a high-quality camera.
I'm going to share those videos with my clients for free so they can upload them to their social media.
Finally, I will upload them to my bar's social media to promote the drink.
This strategy is applicable if:
If I know the average visits to my bar per day and I can project the enhanced traffic from the pictures I uploaded. This is vital to calculating the profitability of offering free drinks.
If I have a good base of followers on social media and a good customer base.
If I am sure that the drink in question will cause interesting and positive reactions and that it will be worth capturing on camera.
Also, note that the investment in this strategy is small — a photoshoot, an extra bartender, and the cost of each shot of the cocktail. Content creation would be done with a phone with a good camera and lighting equipment, which is always a good idea to have in bars and restaurants to improve the quality of non-professional photos.
The great thing about this strategy is that it would generate a lot of content in a single night for social media that will allow promoting this drink for months. That is the symbiotic part of the strategy.
I can even add more strategies to this one, like promoting the mixologist who created the cocktail, completing the database with an email to add to my list of email marketing, and re-sharing customer-generated content.
The way I would measure this strategy's effectiveness is by paying close attention to the sales of this new drink.
8. Measure Your Results, Repeat the Process, and Optimize Your Base Campaign
The final step is simply to measure the results, update and optimize your basic marketing campaigns, and create new strategies with the previous steps.
Marketing never stops — you must constantly work on your business marketing strategies to prevent the competition from getting ahead of you.
Marketing Is a Challenge for Bar Managers and Owners Alike
To conclude, I want to remind you that marketing is not easy — it is a challenge even for the most competent people. Therefore, you must surround yourself with people with marketing skills and a lot of creativity.
And not only do I say this because two heads are better than one, but because marketing never ends. It is something that you must constantly keep in mind, and for this reason, you must learn to standardize and then delegate your bar's marketing. Especially if you still have to take care of other processes, like customer service and managing staff.
How long has it been since you updated your marketing strategy?