Spring promises some unique marketing opportunities for restaurants. St. Patrick's Day, Easter Sunday and April Fools' Day provide big marketing opportunities to attract new and existing customers to your restaurant. Other key promotional events in spring include school proms, seasonal menu changes, spring break, local festivals, March madness in the United States and opening outdoor seating options for customers.
Marketing Stats for Spring Restaurant Promotions
Consumers drink about 7.5 million pints of Guinness each day, but that figure increases to 13 million on St. Patrick's Day. Easter and St. Patrick's Day are great occasions to create an ethnically inspired menu. According to the U.S. National Restaurant Association, 80 percent of consumers dine on ethnic cuisine at least once a month. 43 percent of consumers admit that their love of ethnic foods relates to their ancestry. Spring promotions are the perfect time to use these facts to promote your restaurant and your creative cuisine.
St. Patrick's Day Promotional Ideas
Irish food and drink lead the way in spring promotions. Many cities host St. Patrick's Day parades and festivals. Restaurant owners should attempt to tie-in with these celebrations if possible. The celebrations are often moved to the weekend before or after the holiday.
Creating a Special Menu for the Bar and Dining Room
Irish food is inexpensive, but you can charge a premium for a corned-beef-and-cabbage meal. Cook your own corned beef in a big pot, save the broth and refrigerate the beef so that it's easy to slice by hand or on a slicer machine. On the appropriate day or days, cook some cabbage, red potatoes, celery and baby carrots in the broth. For each meal, serve 4 to 6 ounces of beef and some of each vegetable. Garnish with parsley, and serve horseradish and Irish soda bread. Potato soup is also a great idea as a starter or stand-alone Irish favorite.
Other popular Irish foods include spinach pancakes and corned beef hash, Shepherd's Pie, Colcannon and Irish stew. You can even serve a vegetable Shepherd's Pie for vegetarians. Decorations are critical, but you don't need anything fancy. In fact, simple clovers, shamrocks, pots of gold and green paper decorations work tremendously well.
At the bar, you can serve green beer with a drop or two of food coloring. Irish imports and Irish coffee are also popular with customers. Try serving any of the top 10 drinks in Ireland on your bar menu. These beverages include:
Black 'n' Black, or Guiness with a shot of blackcurrant
Irish cider
Guinness brand of thick, smooth stout
Fat Frog, a drink made from Wicked (WKD) Blue, Smirnoff Ice and Bacardi Orange
Irish coffee, which can be made with Baileys, Kahlua or Irish whiskey
Smithwick's, an Irish red ale
Baileys, a coffee-flavored cream liqueur that's great on the rocks
Craythur or Poitin, Irish moonshine made from potatoes
Whiskey and cranberry, which is great with Bushmills or Jameson whiskey
Baby Guinness, a shot of Kahlua topped with Bailey's Irish Cream Liqueur, which looks like a miniature Guinness
Hosting Irish-Themed Events
You can sponsor a scavenger hunt for a "pot of gold," host a costume contest for the best leprechaun or hold a dance with traditional Irish step dancing. It's easy and inexpensive to provide green carnations, green-glowing necklaces, leis and beer-mug blinkies.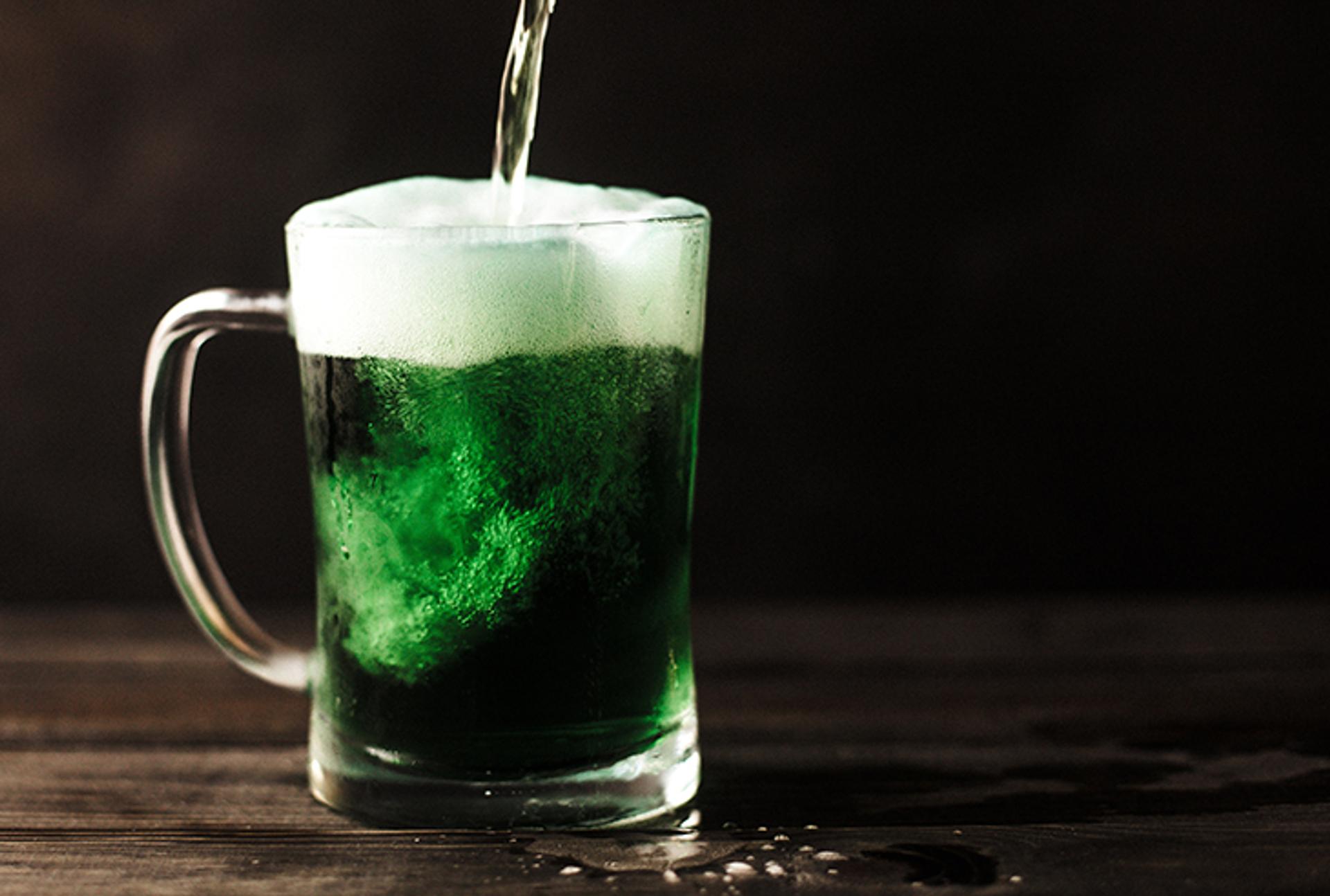 Restaurant Ideas for Easter
Easter Sunday is an ideal time for a themed brunch or buffet meal. In 2018, you can promote a themed Easter brunch for the adults while creating materials for children that promote the holiday and upcoming events. Popular brunch items can include your most popular breakfast and lunch items, and you can serve mimosas and Bloody Mary's. Fancy Easter pastries are always popular in restaurants. You can provide high-quality chocolates with each meal to showcase your candy-making or sourcing skills. Other restaurant marketing ideas for Easter include:
Easter Egg Hunts
Host an Easter egg hunt for the kids. If you have a large lawn, you can hide the eggs there. You could also hide eggs in a nearby park. You can give prizes for the child who finds the most eggs.
Personal Appearance of the Easter Bunny
Like Santa Claus at the mall, a personal appearance by the Easter Bunny can attract families with small children. The Easter Bunny can distribute chocolate candies to each child.
Decorated Chocolate Eggs
You can partner with a local candy seller or chocolatier to create personalized eggs with children's names. These can be served at the end of dinner as a surprise.
Bounceback Discounts on a Future Visit to Every Easter Customer
Bounceback discounts and incentive offers for a future visit allow you to extend any kind of promotion.
Spectacular Menu
You might consider setting up a custom omelet and/or Belgian waffle station. Carved roast of beef, crown roast of pork, whole hams, salmon fillets with Hollandaise sauce, Lobster Newburg, French toast and jumbo lump crab cakes are just a few of the brunch, breakfast, lunch and dinner possibilities for Easter Sunday.
Patio Dining
If the weather permits, seating guests on the patio or at outdoor tables in front of the restaurant can draw a crowd who wants to celebrate spring.
Non-Alcoholic and Non-Liquid Drinks
You should try to create some appealing beverages for families and non-drinking customers. Easter is also a great time to showcase your bartender's creativity with non-liquid beverages such as alcoholic vapors, cotton candy and Jello shots.
April Fools' Day Madness
Tasteful April Fools' Day pranks can leave your customers smiling. Your creative ideas on April 1st can become a tradition at your restaurant. Customers will look forward to the day and be sure to grab a table to see what you come up with each year. The key to success is going over the top so that customers immediately realize what's happening. The simplest promotion is renaming your regular menu items with funny titles. You can also switch things around by offering lunch at breakfast and breakfast at dinner.
Other promotions for April 1st include:
Providing Funny Materials for Kids

Getting kids involved is easy - just create a "Where's Waldo?" type of drawing that has unusual elements that don't belong. You can award a coupon or gift to those who find all the strange elements - such as snow on sunbathers at the beach.

Serve a Clay Version of a Meal

You could serve a clay sculpture of a meal to certain guests whom you know have a good sense of humor.

The Moving Money

You could tie a string to some money and lure customers in the door in a guerrilla marketing campaign. As a goodwill effort, you should discount the meal for the amount of the currency.

Visits from Space

Sending in a troop of people costumed as extraterrestrials is sure to attract attention.

Serve "Colorized" Food and Beverages

You can add a drop of food coloring to beverages and desserts - such as blue milk. You could also serve "green eggs and ham" a la Dr. Seuss.
Spring promotions can be as elaborate or as simple as you want. You can promote them with press releases, social media posts and traditional advertising, or you can simply create a flyer and distribute it for a few weeks before your event. The important thing is to recognize a genuine spring occasion - such as a new menu, spring break, high school prom or holiday - and come up with a creative way to promote it. You should also engage your staff to own the promotion by training them to promote new menu items. Your training should also include showing each server how to find promotional specials on your POS interface.