Are you looking for the best restaurant desserts to add to your menu?
Do you need to create a simple restaurant dessert menu?
You should consider including the world's best-selling desserts while creating your restaurant's menu.
I've created this article to give you 5 trendy dessert recipes for restaurants.
You can use them to extend your restaurant dessert menu or supplant some options that you already offer.
These are the best-selling desserts:
Brownies.
Cupcakes.
Cookies.
Truffles.
Ice cream.
In addition to describing each, I will give you simple recipes that you can modify and improve for your restaurant, and some tips so that you can innovate with the base recipe.
These tips will be perfect to make these desserts match your restaurant's theme, whether it is a traditional or an haute cuisine restaurant.
Let's get started!
Why Do You Need the Best Restaurant Desserts in Your Business?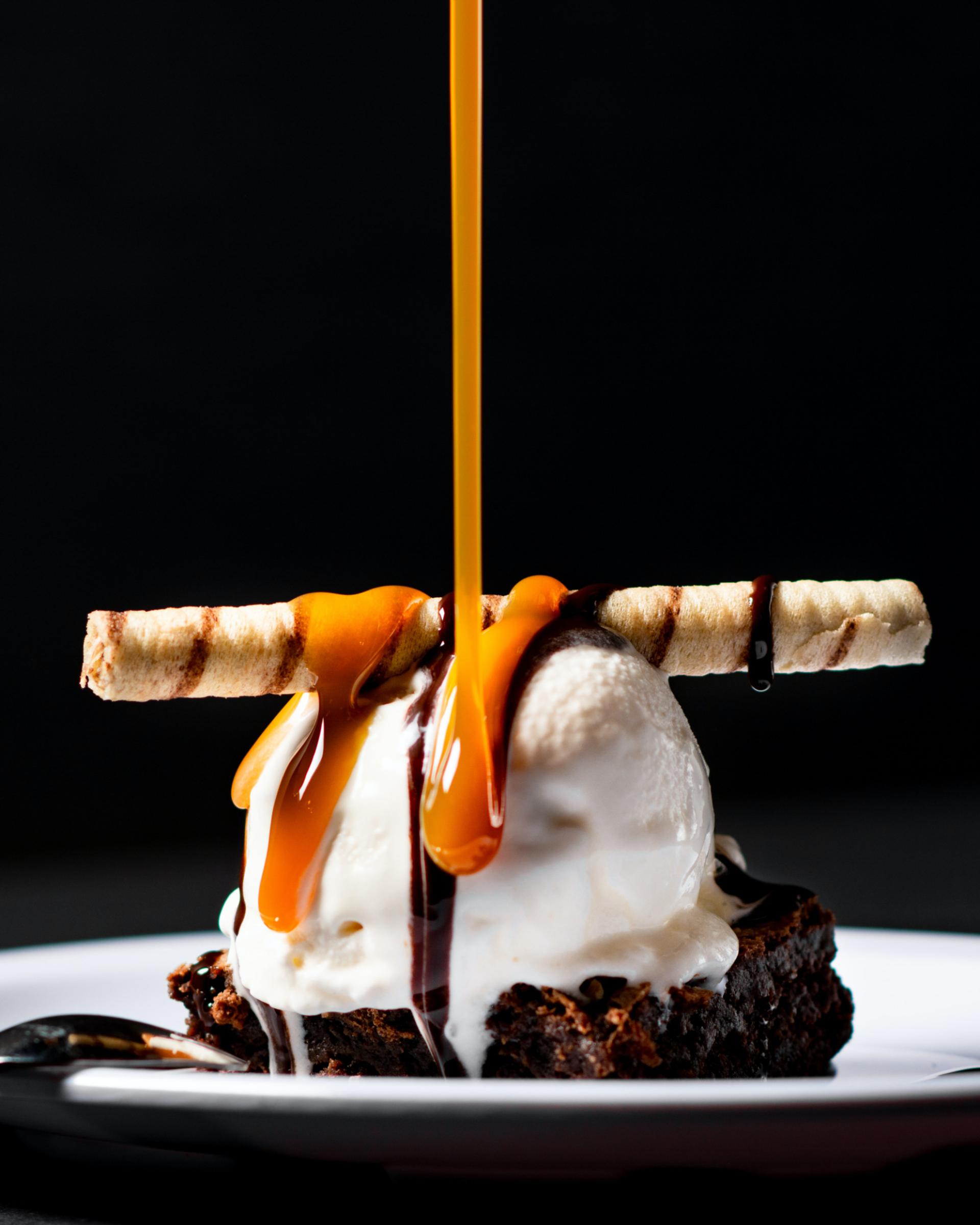 New restaurants must know and use the best-selling desserts and the most profitable desserts — and everything in between — in their menu.
However, profitability and sales volume are different concepts that easily mix.
The profitability of a dessert or dish is reflected by its benefit after subtracting the cost of production and the number of sales.
For example, if you spend $2.5 to produce a brownie, and you sell it for $5, then your profit margin is 50%. And that's just the gross profit.
Learn here how to calculate the profit margin for your restaurant.
On the other hand, sales volume is the number of brownies you sell. If the price is too high, the sales volume may decrease.
The decrease in sales can also happen if the price is too low, as this affects the perception of the quality/price ratio of the customer.
The balance point between the two concepts is to sell the brownies at a price that produces good profits, but without affecting the number of brownies you sell.
Why Does All This Matter?
When you are starting your restaurant, you need to reach a breakeven point that generates profit, while maintaining a sustainable level of sales, and quality. This balance is what the recipes ahead will help you find!
How to Know Which Desserts Are Profitable?
To find out, you will need to consider the cost of producing each dessert — the lower it is, the better the profit margin range.
After you calculate a viable profit range for the dessert you want to sell, you just need to adjust that number so that you get a good flow of sales.
And that's it!
The desserts below give you the advantage of being the cheapest in terms of production.
In addition, they are widely known worldwide for being among the most delicious.
You just have to make a few adjustments to quickly start selling them in your restaurant.
1. Brownies — The Best Restaurant Desserts
A quintessential American recipe. Brownies have a widely discussed, but still unknown origin.
The dessert is a chocolate bar — not considered cake — that has a smooth and creamy chocolate interior.
The original recipe is quite simple, easy to prepare on a large scale, and modify, which is perfect for a restaurant.
It does not have many ingredients, either. Get the recipe below.
Profitable Brownie Recipe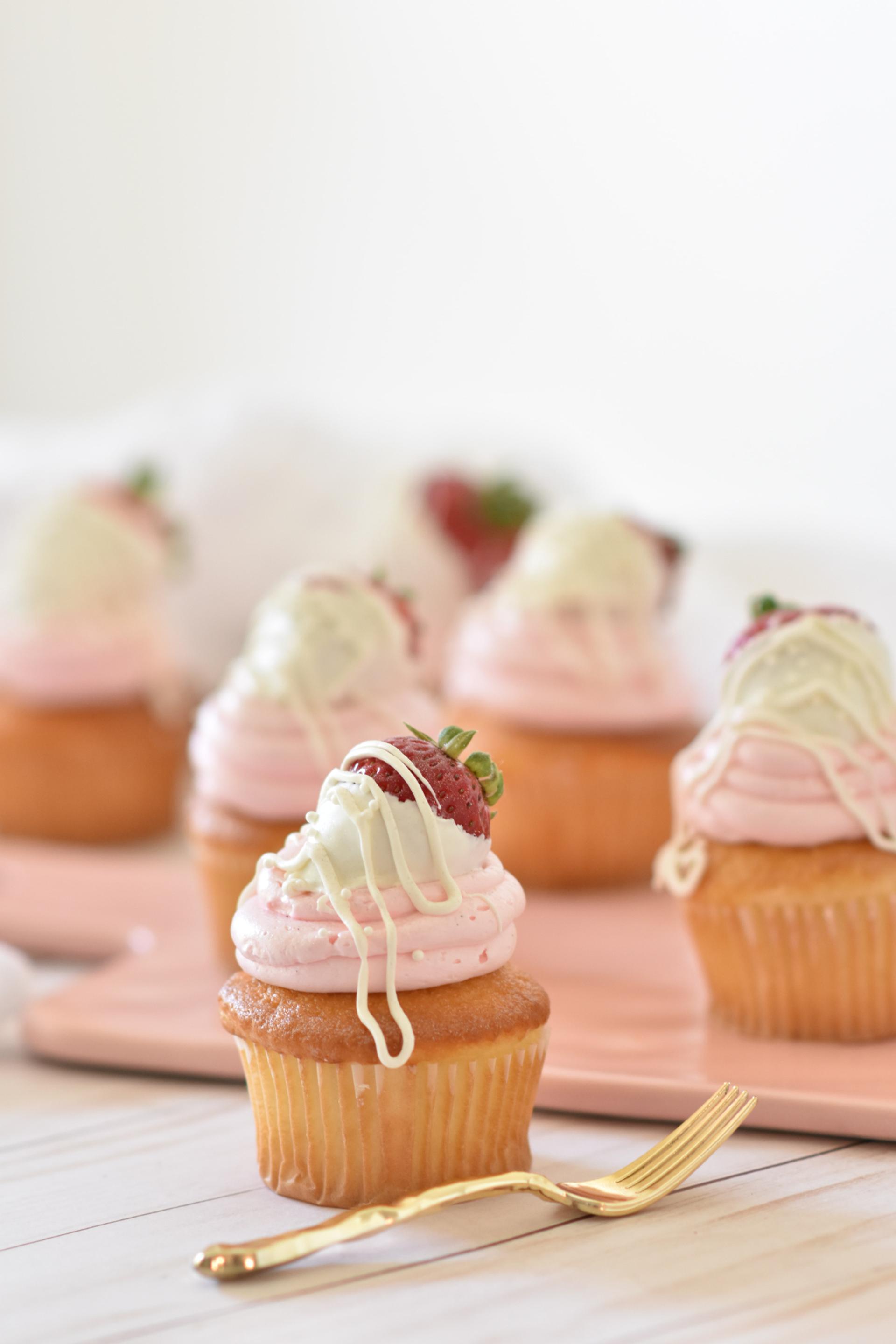 The most profitable brownie recipe has only 7 ingredients, and it only takes two steps to prepare. It's the original recipe!
These are the ingredients:
¼ cup of butter
1 cup of brown sugar
1 egg
¾ cup of wheat flour
1 cup of crushed walnuts
1 teaspoon of salt.
150g of pastry chocolate.
The steps are:
Preheat the oven for 10 minutes at 356ºF while you prepare the mixture.
Melt the chocolate with the butter. Reserve until lukewarm.
After the chocolate is warm, simply add all the ingredients and mix them in a big enough bowl.
Spread this out in a greased buttered dish.
Bake at 356ºF for 15 minutes.
Remove from the oven, let cool, and cut into even pieces. 
Note: Don't worry if the brownie doesn't pass the toothpick test — it's much better if it's a little fudgy in the middle!
What Do You Need to Make Brownies in Your Restaurant?
To make brownies you will only need:
The ingredients
A good convection oven for restaurants.
Suitable trays or molds so that the brownies do not stick. You can use silicone molds to bake them too.
And nothing else. The ingredients are also easily affordable — although it is recommended that you use the best quality ones for the best result.
2. Cupcakes — Join the Muffin Wagon
Muffins and cupcakes are a worldwide trend — even if it's a recipe from 1796!
Besides being trendy, cupcakes are easy to make, they don't have many ingredients, and you just have to focus on decorating them well to impress your customers.
They are also very versatile, so you can create new flavors and innovate new recipes from the one below with a little imagination.
Basic Cupcake Recipe
This is a simple recipe for vanilla cupcakes.
However, if you play around with the ingredients a bit, removing or adding elements, you can create innovative flavors.
2 and 1/2 cups of all-purpose flour
2 cups of sugar
3 teaspoons of baking powder
1 teaspoon of salt
1 cup of milk
1/2 cup of vegetable oil
1 tablespoon of vanilla extract
2 large eggs
1 cup of water
This is the preparation process:
Preheat the oven to 356ºF.
Prepare a cupcake mold with paper molds.
Add the dry ingredients to a bowl and blend them well with a whisk.
Combine the oil, milk, eggs, and vanilla extract in a bowl with an electric mixer.
Add the liquid ingredients to the bowl of the dry ingredients and mix until evenly combined. Don't forget to go over the sides.
Slowly add the water while mixing. The mixture will be somewhat runny, but this is fine.
Fill the molds halfway carefully.
Bake for 15 to 17 minutes. You should remove them when you insert a toothpick and it comes out clean.
Let them cool and add the decoration you want.
This is the most basic recipe for cupcakes. As I mentioned above, you can modify it, add or remove ingredients to make it match your restaurant's theme.
For example, you can remove the vanilla essence from the ingredients, add a little more milk or oil, and add cocoa powder to the dry ingredients list.
This will result in a delicious chocolate cupcake — a fan-favorite restaurant dessert!
Add some whipping cream, fondant decorations, or even ice cream to complete the perfect cupcake!
What Do You Need to Make Muffins in Your Restaurant?
To make muffins you will need:
A convection oven to get the best results.
A set of pastry bags with different tips for decoration.
Ingredients to prepare the cupcakes and their decoration. This can be as simple or as complicated as you like.
Durable stainless steel molds for baking cupcakes.
Paper cupcake molds.
A hand whisk, electric mixer, or kitchen aid.
Much creativity for decoration.
Create the best haute cuisine cupcakes in your restaurant!
3. Cookies — Versatile, Delicious, and Easy to Make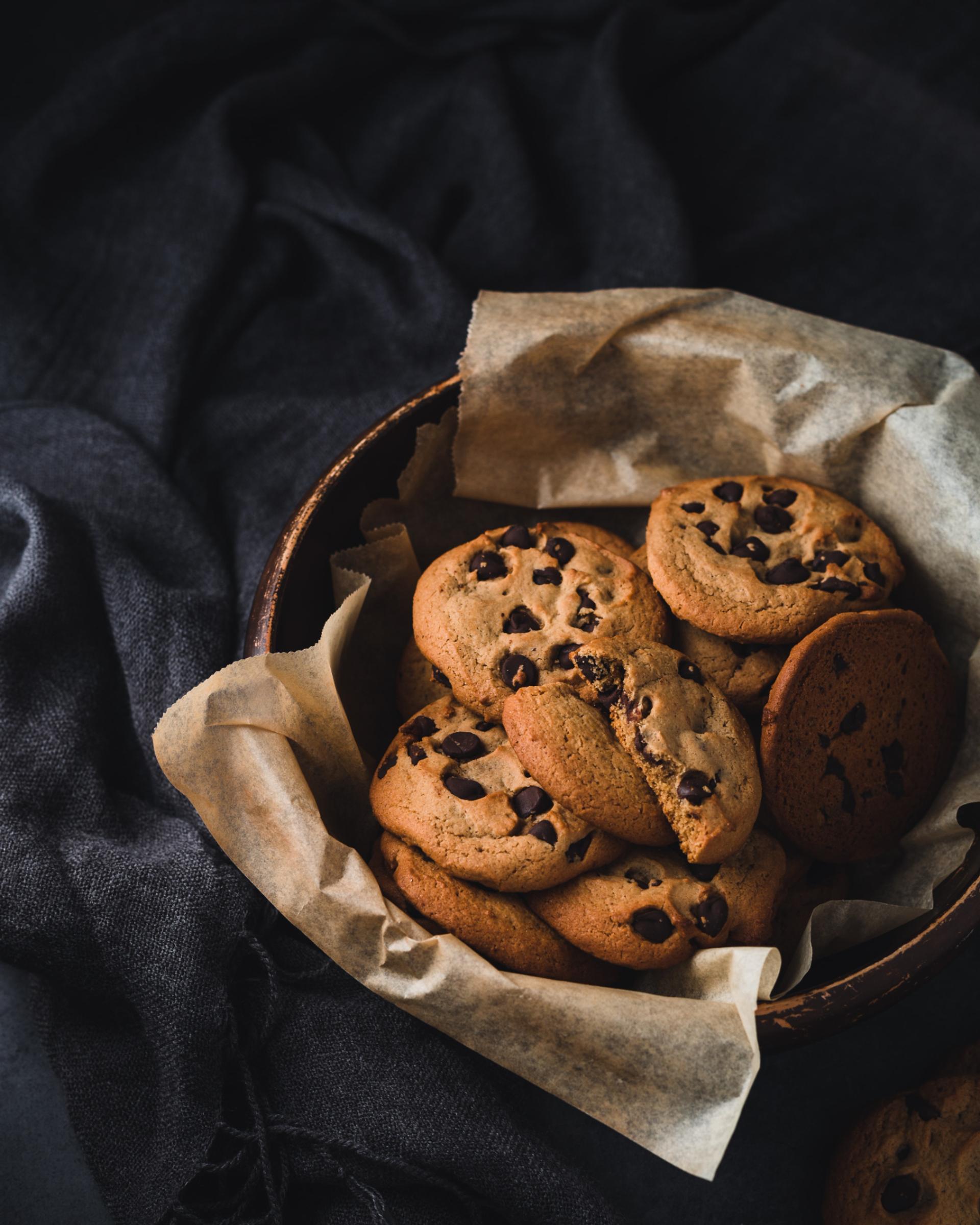 Cookies make millions a year without ever going out of style.
They are one of the best-selling desserts in the world because they are versatile, delicious, and outrageously easy to make.
Also, they don't have many ingredients and there is a great variety — and you can always create your recipes.
This recipe is a trump card for all entrepreneurs looking to start a confectionery and pastry business.
Chocolate Chip Cookie Recipe
Everyone has enjoyed a delicious chocolate chip cookie.
However, very few people make their own cookies, as they are cheap and easy to get anywhere — that guarantees a good sales flow if your cookies are delicious.
In addition, you can create special offers with many cookies at different prices. You can also calculate the costs of production easily as they are pretty cheap to make.
This is the recipe:
1 cup of flour.
1 tablespoon of cornstarch.
1 teaspoon of baking powder.
1 pinch of salt.
100 grams of butter
1 egg
200 grams of brown sugar
1 teaspoon of vanilla extract
100 grams of dark or semi-sweet pastry chocolate.
This is the preparation:
Mix the flour, cornstarch, baking powder, and salt in a bowl.
In another bowl, mix the butter, egg, and sugar. After integrating everything, add the vanilla extract.
Then we integrate the dry ingredients with the mixture above.
Finally, we add the 100 grams of the chocolate of your preference cut into pieces.
After the dough is ready, let it rest for 15 minutes in the fridge.
After it rests, you can portion the dough by weight and form balls of the size you want.
Let the formed balls rest for another 15 minutes. Meanwhile, preheat the oven to 356ºF, and then you can grease and flour the trays that you will use.
After the second rest, arrange the balls on the tray. Remember to leave enough room for the balls to flatten in the oven.
Bake for 12 to 15 minutes. Don't worry if they are a little soft, because they will harden after they cool down.
This recipe is quite simple, but the better the ingredients, the better the result. Above all, I recommend that you invest in good chocolate.
What Do You Need to Make Cookies in Your Restaurant?
To make these cookies you will need:
Good quality chocolate — it is recommended that it has a cocoa percentage above 30%.
Stainless steel or silicone trays.
A good oven — it can be convection or a restaurant's kitchen oven.
And space in your restaurant's refrigerator.
And you're set!
4. Truffles — An Easy Restaurant Dessert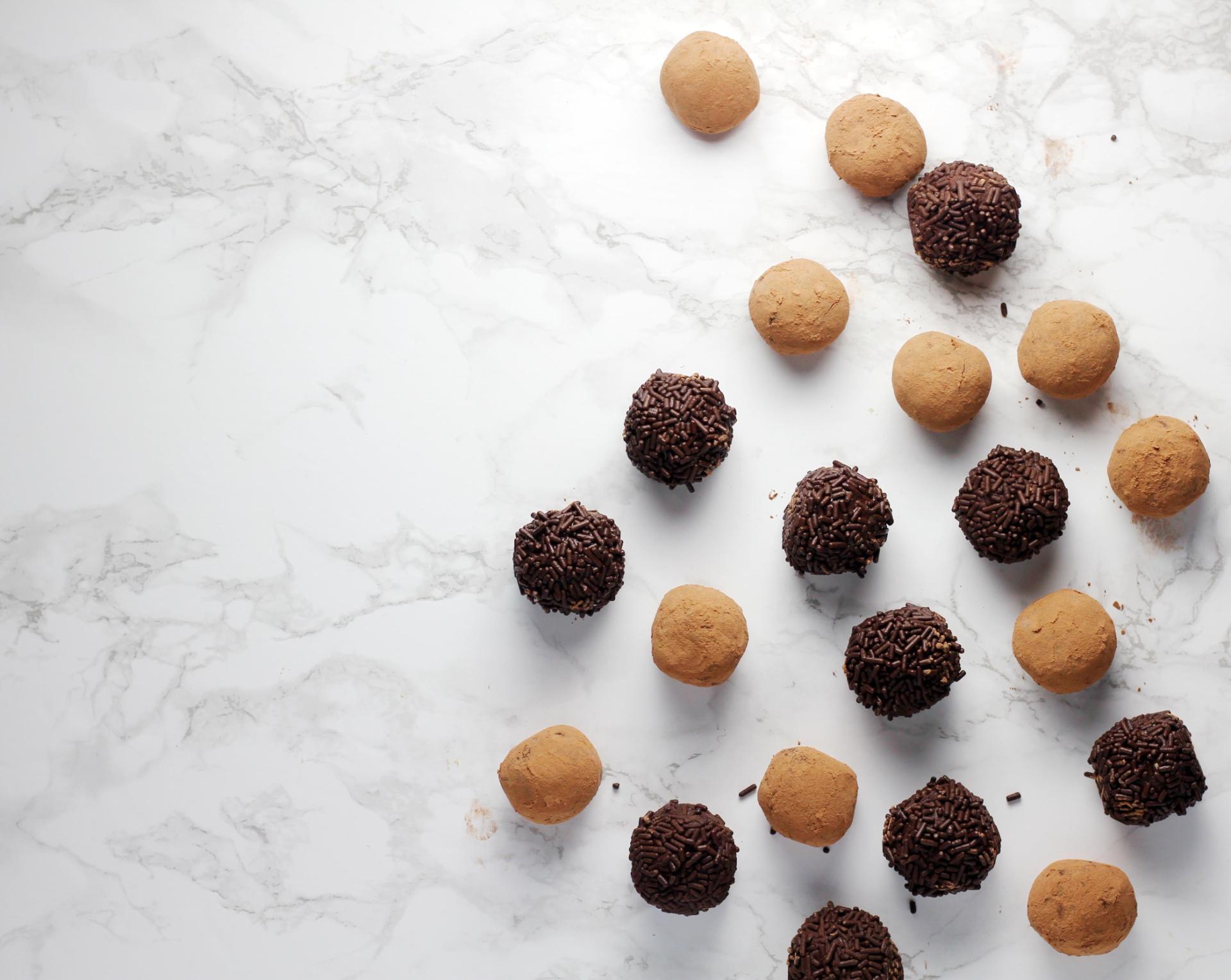 Chocolate truffles are one of the fastest desserts you can make, especially if we systematize the process to make them in a commercial kitchen.
This simple recipe is delicious, plus you can always use all your skills to improve them, innovate the recipe, and more.
You can create stuffed, complex truffles with different types of chocolate, and more.
Truffles are the perfect alternative if you don't want to or can't invest in a station to work the chocolate — it is quite an expensive piece of equipment after all.
Profitable Truffle Recipe
For the chocolate truffle recipe you will need:
285g of pastry chocolate.
30g of unsalted butter.
½ cup full whipping cream (at least 30% fat).
Crushed nuts, cocoa powder, chocolate noodles for decoration, grated coconut, and more to cover and present the truffles. You can choose other toppings too!
This is the preparation:
Melt the chocolate together with the butter in a bain-marie until it is completely melted.
Then add the cream to the bowl and mix until everything is combined — this should take about five minutes.
After the ganache is ready, let it sit until lukewarm, then put it in the refrigerator. It should be in the refrigerator for about 6 hours — you cannot speed up this process, so be sure to make your truffles in plenty of time.
After the necessary time, the ganache should be solid and workable.
To shape them (it is advisable to divide the work between two people):
Prepare the work area with 2 bowls with ice and water (one for your hands, and another to keep the ganache cold), a plate with the cover you want, an extra plate, and the tray where you will place the ready truffles.
With a large or ice cream scoop, scoop out a ball with the desired amount to mold your truffles. 
Then, with a smaller spoon, scoop out the ball and place it on the extra plate we mentioned above. Repeat this several times until you have several balls of ganache.
Dip your hands in the bowl with ice for a few seconds and then, take the balls, and shape them with your fingers.
Pass them through the cover and place them on the final tray.
Repeat the process until the ganache is gone.
And ready. With this recipe, you can get about 20 delicious truffles of good size.
What Do You Need to Make Truffles in Your Restaurant?
For this recipe you will need:
Again, good quality pastry chocolate.
bowls, trays, and enough space to refrigerate and store.
And a kitchen or stove where you can heat the chocolate. You can also use a microwave but it is not highly recommended.
This recipe is one of the most delicious for chocolate lovers and is profitable and easy to prepare in any restaurant.
In addition, truffles are versatile, since you can prepare them with different flavors, toppings, types of chocolate, and even complement other desserts with them.
5. Ice Cream — A Classic Restaurant Dessert!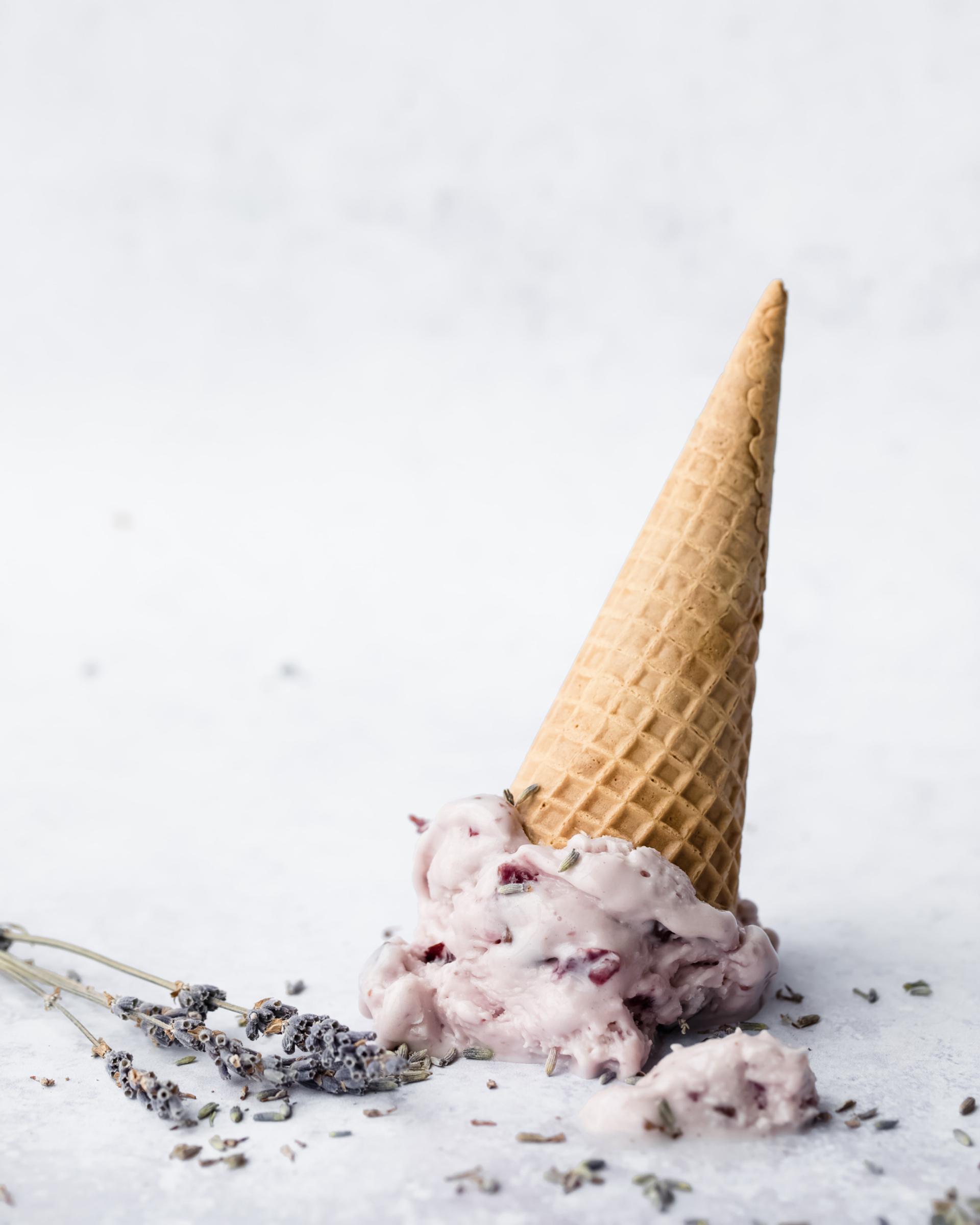 There are many ways to prepare ice cream, be it dairy-based, egg-based, or even water-based fruit ice cream.
Thanks to its versatility, and the large number of flavors that you can prepare, ice creams are an incredible option to offer at your restaurant.
Plus, you only need one additional piece of equipment to make the best ice cream!
Finally, saying that you make ice cream in your restaurant, and adding good flavors will cause excellent opinions from your diners.
Profitable Ice Cream Recipe
For the base ice cream recipe you will need:
2 cups of heavy cream with high-fat.
1 cup of whole milk.
⅔ cup of sugar.
1/8 teaspoon fine salt
6 egg yolks. 7 if they are small.
This is the process:
Place the cream, milk, sugar, and salt in a saucepan and cook over medium heat until everything dissolves. This will take about five minutes, then you can remove the mixture from the heat.
In a separate bowl, add the egg yolks and beat with a mixer on medium speed.
After all the egg yolks are beaten, slowly begin adding a third of the mixture from the still-hot pot. Do it slowly, in the form of a thread, to prevent the eggs from cooking, and never stop beating.
Then, return the mixture from the bowl to the pot, and cook over low heat for a few minutes until it thickens. You'll know it's done when you dip a spoon in and the mixture covers it without completely falling off.
When it is still hot, pass the mixture through a fine strainer to the bowl or container in which you will let the mixture cool. After it is at room temperature, let it refrigerate for about 4-6 hours.
After this period, you can place the mixture in the ice cream machine. Follow the instructions of the machine you are using and your ice cream will be ready.
This recipe has no flavor as it is a base mix. From it, you can create the different flavors you want in your menu.
For example, to create vanilla ice cream, simply use vanilla beans to infuse the milk and cream mixture.
In the case of chocolate ice cream, you can use cocoa and confectionery chocolate to replace the cream, while adjusting the values of sugar and milk.
What Do You Need to Make Ice Cream in Your Restaurant?
To make ice cream you will need:
High-quality ingredients.
An ice cream machine. You can also make ice cream by hand, but the work is more tedious.
Bowls, small or medium pots, and other common kitchen utensils.
A scoop for serving ice cream.
And ready! So you can create delicious ice creams with unique recipes from your restaurant, add ice cream to your other desserts, and more.
5 Tips to Innovate in Your Restaurant's Dessert Menu
Innovation is what keeps new restaurants relevant to their competition.
It provides a competitive advantage because no or very few restaurants will be doing the same as yours.
That is why I will give you some tips so that you can innovate in those recipes.
Stay on top of culinary trends: gastronomy trends are constantly evolving to create new, unique flavors, new methodologies, and more. Staying on top of those trends will give you the advantage of innovating first in your area.
Use local or traditional ingredients: gastronomy is — in addition to delicious dishes — a way of telling history through the palate. That is why more and more importance is given to the flavors of origin, the traditional flavors, and their implementation in modern cuisine.
Experiment without fear: If you are interested in creating a cutting-edge restaurant, you will have to add experimentation with new dishes, techniques, and more to your annual budget. Thus, you can experiment in a comfortable and controlled way, without generating losses for your restaurant.
Study your local landscape well: Studying the competition, the general tastes of local diners, and more are vital to making better decisions for your restaurant. We are not only talking about administrative decisions, but also about better decisions regarding the menu of your restaurant. Adding a new dessert to your menu without it being in the collective consciousness of your locality can be a mistake — especially if you do not create a marketing strategy for your restaurant.
Promote innovation among your staff: two heads think better than one — and kitchen staffs have many more than two. You can capitalize on the talent and knowledge of your staff by promoting creative collaboration with the menu. This is something you can easily do with the help of your executive chef.
These tips will be useful to innovate in a safe, sustainable, and profitable way for your business.
You will be able to create the best-selling desserts in your city!
Improve Your Business With Profitable and Classic Restaurant Desserts!
Creating profitable desserts for your restaurant doesn't have to be difficult — especially if you have a plan.
This article will help you to adapt and innovate with what are already the best-selling recipes worldwide. It is a very smart decision!
However, you must always remember to create something different and unique that also matches your restaurant's theme.
Do you need a way to measure the performance of these new desserts on your menu?
Waiterio can help you!
With our app, you can get detailed reports of each transaction, weekly and monthly earnings reports, and more to adapt your business plan.
This way you will know if the desserts you add to your menu are profitable or not easily and quickly.